"How do you sell sex, drugs, and rock-and-roll to children?"
As the director of the Museum at Bethel Woods—the site of the original Woodstock—Wade Lawrence needed an answer to his own million-dollar question. "We knew we'd have the baby boomers; we were worried about the young kids." A test tour with high school students eased his mind. Instead of being detached and disinterested, a few of the teenagers wondered why Jimi Hendrix's white guitar wasn't present. Lawrence was shocked—he didn't expect them to know who Hendrix was, let alone the iconic guitar he played at Woodstock.
The answer to his question became clear: "You don't [need to sell it]. It's history. It's our recent history, what we're still living with today." The 1960s, which were much more than tripping hippies and free love, sells itself.
The museum's newest exhibit, "Strange, Kozmic Experience," was shipped from the West Coast's GRAMMY Museum at L.A. Live. Originally, the exhibit was going to travel to Manhattan, but Bob Santelli, director of the GRAMMY and a Bethel Woods consultant, decided it was better suited for the 1960s-centric museum. "We had the connections even before we opened, but I think any new museum has to establish themselves before they get street cred. The biggies are coming to us now—we don't have to beg and plead." While the GRAMMY provided all of the memorabilia, photographs, and recordings, Lawrence had free reign to design the exhibit how he wanted. "We stayed true to the original intent of the GRAMMY, but it definitely has our mark on it too." Another reason to check out the exhibit? This is the first time it's been anywhere but Los Angeles.
While the Museum at Bethel Woods primarily focuses on the societal impact of Woodstock and what it was like to be in the audience ("The mud, the rain, the traffic jams…"), "Strange, Kozmic Experience" focuses specifically on The Doors, Janis Joplin, and Jimi Hendrix. The exhibit is a scavenger hunt of 1960s gems and rarities: The Doors' Lifetime Achievement GRAMMY and Robby Krieger's Les Paul guitar; a tiny, framed pen-and-ink drawing on acid blotter paper of Janis Joplin by cartoonist Robert Crumb and hand-written letters from the singer to her parents, apologizing for being out of touch and so busy lately; Hendrix's lime green, surprisingly small polyester suit, complete with bell bottoms, a tie-dyed dress shirt, and his bolero vest—"You look at it and you know you're looking at Jimi," Lawrence says.
Also on display are memorabilia from the artists' blues influences, like Muddy Waters, Odetta, and B. B. King; archival footage and talk show interviews; and a section on the music festival culture of the '60s. "The music really was rooted in the blues," Lawrence says. Showcased are B. B. King's pink chrysanthemum-covered tuxedo coat, a Monterey Pop Festival poster,
Life
magazine's special Woodstock edition, and a tattered T-shirt with a crooked Woodstock logo ironed on. Lawrence calls the shirt "high art on a low scale." Since there wasn't any official merchandise on sale during Woodstock, the shirt's provenance is a minimystery.
"Strange, Kozmic Experience" is on display at the Bethel Woods Museum in Bethel through October 30. Tickets are $15 for adults. (845) 583-2079;
www.bethelwoodscenter.org
.
click to enlarge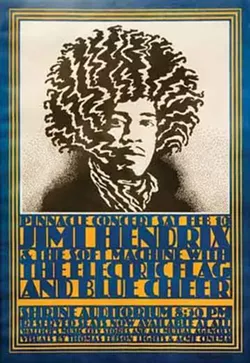 click to enlarge
click to enlarge