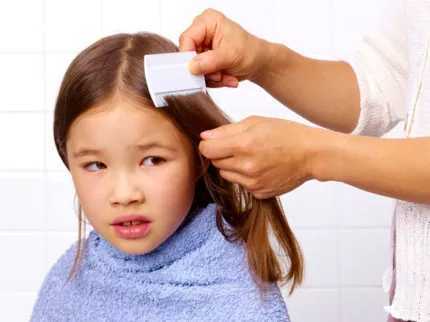 Last week, it was hard to find any over-the-counter lice treatments in my town at CVS and RiteAid. They had sold out, after a head lice breakout had prompted a run on the local pharmacies. But shoppers should have considered themselves lucky: Aside from being toxic, the OTC lice treatments are a waste of money and effort these days.
Why? It appears that the modern louse has evolved to tolerate the pyrethrin- and permethrin-based chemicals (i.e., pesticides) that are the main active ingredients in OTC shampoos and products such as RID and Nix. Enter the age of the new "super lice," hard-to-kill critters that are raising the stress levels and blood pressure of parents and school officials across the country.
Experts say that lice become tolerant of the OTC shampoos and products when people apply them incorrectly. Perhaps the shampoo doesn't stay on the scalp long enough, so the lice get a small dose that doesn't kill them but makes them stronger. Then a new breed of super lice develops, with stronger eggs and exoskeletons that resist treatment.
What can be done? Some pediatricians recommend the "smothering" method to kill the bugs and loosen the eggs. One such method involves liberal use of Cetaphil cleanser, a shower cap, and a hair dryer. Others involve olive oil or tea tree oil.
The homeopathic product LiceFreee - available in a gel, spray, and preventive shampoo - is a nontoxic option available at many health food supermarkets.
To tackle a very persistent infestation, you can get a prescription from your doctor for Sklice, Natroba, or Ulefsia - all of which use different chemicals that demonstrate effectiveness even against the so-called super lice. Until they evolve again, that is.