Drive 30 minutes off the Thruway through Orange County's lush, rolling farmlands to Warwick and find yourself at a rustic, white clapboard farmhouse. Around back there's some mismatched vinyl sheeting strung up between a couple of tree limbs as a makeshift canopy. Underneath there's a table, about 12 feet long and filled end to end with one palate-tempting Georgian delicacy after another—plates of hearty kebab, juicy slices of
badrijani nigvzit
(seasoned eggplant), aromatic
ajaphsandali
(a spicy vegetable dish), and on and on. It's a spread that makes the inside shot of
Beggar's Banquet
look like a Happy Meal. Seated tightly all around this bountiful feast are 30 or so Georgian immigrants of all generations, from small children to seniors, rowdily conversing and toasting each other and all manner of occasions in their native tongue.
"Welcome to our Georgian table," says the host, Victor Sirelson, whose wife Lia has prepared the sumptuous offerings for the gathering, which is known as a supra. "You must try the wine, it's a tradition for new guests." More toasts and infectious bonhomie ensue. But the revelry, however, is about to get kicked up several notches.
Native folkloric garb is donned—for the men, the lengthy, bandolier-festooned chokha coat; for the women, an arkhalig jacket and traditional velvet tavsakravi headscarf. Instruments are produced: garmoni (accordion), salamuri (recorder), panduri (three-stringed lute), duduk (double-reed, woodwind pipe), and doli (drum). Music begins, dancers rise from their chairs and take to the lawn, and four of the men form a chorus, three of their voices holding sustained bani (bass) notes while that of the fourth soars and dives above the low drones like a lonely dove. Like some kind of multi-piped human church organ, they let loose a couple more festive dance and "table songs" and finish for the moment with "Shemodzakhili," a heartbreaking romantic lament from the Kakheti region (a translated lyric: "I don't have wings to fly to you / Give me your shovel, I have to dig my grave"). Even for a visitor who doesn't speak the language, the mood is both warm and very deeply moving. One feels honored and privileged just to be present.
The musical ensemble is named Mgzvaruli ("mig-zeh-vroolee"), which means "traveling" (a reference to its members' diasporic status), and it's a core component of Dancing Crane, the traditional Georgian music and dance troupe Sirelson co-founded in 1997. "To us Victor is like a father," says Genadi Mskhiladze, a male dancer who is also tonight's appointed
tamada
, or toastmaster, the central figure of the ancient tradition of the supra. "It was Victor and Lexo who brought us all together." Lexo is the nickname of the late Alexandre Goderdzishvili, who served as Dancing Crane's vital first connection to professional Georgian performers living in the US, and helped to put Mgzvaruli together. (Lexo's son Evan is the band's musical director; his daughter Natalia sings and plays panduri.)
Like the majority of the organization's 40 or so members, Mskhiladze immigrated to New York area in the early '90s when he was unable to find even menial work in his homeland, a region still recovering from nearly 300 years of Russian rule and currently dealing with the aftereffects of last year's South Ossetian war. (Though all of Dancing Crane's members know at least one person back home who was displaced in some way by the fighting, miraculously none of them lost any relatives in the conflict.)
"I married a Georgian and ended up also falling in love with Georgian culture," says Sirelson, who has worked in finance and for a time with Lia ran a Georgian restaurant in Warwick. "The roots of this music go back almost 3,000 years. After Christianity came to Georgia in the fourth century the vocal styles of the indigenous music were adopted by the church for its liturgical songs—so in a way religion helped the music to survive, really. But while it sometimes has religious overtones, at the same time, beyond that, it always captures the spiritual essence of the Georgian people without being religious per se."
Along with the notoriously culture-conquering Christian church, Georgian music and dance has had another unexpected preservationist: Josef Stalin. A native Georgian, the infamous dictator and purge-monger so loved the folk styles of his birthplace that they were allowed to flourish not only under his reign, but for the remainder of the Cold War, decades after his death. In fact several Dancing Crane members were in state-sponsored touring companies; choreographer Vladimer "Dotto" Goderidze even performed aboard nuclear submarines and for frontline troops in Afghanistan.
Like that of many other cultures, the musical performances tend to largely be by males, but—and troupe members of both sexes insist—Georgian music is male predominated, as opposed to being male-dominated. "Women have always had strong, equal roles in the culture. At one time Georgia even had a female king," Sirelson says, referring to King Tamar, who ruled the country from 1184 to 1213. As with its spoken language Georgia's folk music itself has several dialects, which are normally grouped by the names of their individual provinces: Racha, Kartli, Kakheti, Achara, Shilda, Guria, and so on. The styles can differ radically from region to region in terms of harmonic structure, intonation, and ornamentation, but the one aspect common to all is polyphony, a characteristic most readily evident in the music's colorful, drone-buttressed, multi-voiced choral pieces. Themes can range from wedding songs and the afore-mentioned table songs to instrumental dances and liturgical chants, as well as songs of work and the harvest, romance, nostalgia, travel, and war; some lyrics are adapted from folk tales or epic poems. Dancing Crane's members come from all parts of Georgia, and the richly varied content of their repertoire offers a fascinating, ever-shifting tour of the nation's traditions.
Outside of a live performance by Mgzavruli (or, if you're lucky enough to be invited, a supra), the best way to get a taste of the ensemble's magnificently moving music is through its recently released debut CD, There is Such a Country; It is Called Georgia (2009, Dancing Crane, Inc.). "[Georgian music] is very uniquely haunting in the way it uses certain modes and scales," says Warwick jazz pianist Richard Kimball, who has been a fan of the group for several years. "I guess I'm a romanticist, and so what really draws me to the music is the faraway sound it has. It just really gets right to the heart of the culture, which is very warm and gracious. It definitely 'takes you there,' as they say."
Since the company's inception several admirers who were born and raised in its members' adopted home have actually ended up joining Dancing Crane, a family always delighted to share its traditions closely with others. "When I first saw [the troupe] perform I was just so struck by the beauty of the dancing and the music," says Julie Hammet-Cone, who has been a dancer with the group since 1998. "They're such beautiful people, and I feel so fortunate to be around them. It's like a gift that's enriched my life."
And in addition to spreading this gift to their American-bred contemporaries, Dancing Crane's members are eagerly working to pass it on to future generations. Among other endeavors, the organization runs the Pesvebi Children's Dance Ensemble and has plans to start a school for young performers. "So much of why I am doing this is for my children," says Natalia Goderdzishvili, a mother of two. "I think it's very important for them not to lose the traditions, always to keep their roots."
Wherever Lexo is right now, he must be very happy and proud.
There is Such a Country; It is Called Georgia is out now on the Dancing Crane label. www.dancingcrane.org.
click to enlarge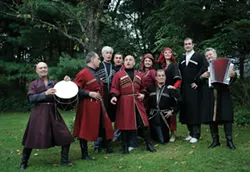 click to enlarge