click to enlarge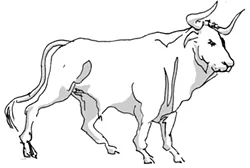 TAURUS (April 19-May 20)
Though most descriptions of your sign cast you as practical, grounded, and organized, you have one of the dreamiest minds around. This is why you can find yourself getting caught in fantasy, and it's why material things often take so long for you. The story of your astrology for 2011 and well beyond is about gaining clarity. Most of that clarity is to your emotional nature. You are sensitive; the solution is about enhancing that sensitivity rather than toning it down. Though it may seem odd to say, your true liberation will come from fully honoring your inner life. That will set you free to act with confidence in the world.
One of the most exciting aspects of your journey through the next four seasons involves discovering that you create who you are as you go. At times this may feel like a path of discovery, but that's an illusion of time. This is true to the extent that, for the sake of grounding and a sense of stability, you've often preferred to depend on who you were yesterday, but your imagination is way too rich for that. The thing about having a lavish imagination is that it truly helps to be disciplined about it.
As part of that discipline, you must turn to everything you ever considered as a fault and turn it into an asset. For example, if you consider yourself a procrastinator, you can discern the thing you're most motivated to do at any given time—such as choosing the thing on your "to do" list that's the most fun. If you do that consistently, you will get everything done. If you are a raging idealist and don't think the world is ready for you, then test out your own belief and try something specific and see what happens.
The trend of your life is moving away from theorizing and into action; away from guilt and into pleasure; away from being concerned about risks and toward being a kind of test pilot of the soul. As you experiment in all these ways, remember: Manifestation always proceeds from an idea into tangible form. And the one thing between the idea and its expression is, most often, what you believe. So if you want to make real changes that are 100 percent certified by the cosmos, change what you believe. It's easier than you currently believe.