Ulster County Tourism
Based out of Kingston, the first state capitol of New York, Ulster County Tourism is your guide to all things Ulster County—from recreation, to attractions, farm to table cuisine and U-Pick farms, art, culture, and history, accommodations, and much more! Their recent 2013 Ulster County Travel Guide, including traveler and transportation information and a foldout map, is now available free of charge through special request via their website (ulstercountyalive.com) or at 100 retail locations in Ulster County. Visit them online at ulstercountyalive.com for more information or to start planning your Ulster County getaway today!
The Museum at Bethel Woods
The Museum at Bethel Woods, located at the site of the 1969 Woodstock festival at Bethel Woods Center for the Arts, explores the unique experience of the Woodstock festival, its significance as a culminating event of a decade of radical cultural transformation, and the legacies of the sixties and Woodstock today. An immersive multimedia exhibit features the sights, sounds and culture of the decade, and incorporates personal stories and profiles. Visit the website for more information on the concert, film, and speaker series. Open April through December 31. Visit www.bethelwoodscenter.org for hours of operation.
click to enlarge
H. Houst & Son
click to enlarge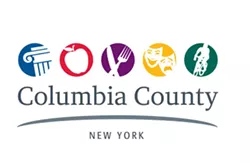 Columbia County Tourism