It's an eternal question: Is the serpent eating an egg? Or is it a head, emerging from the serpent? Ty Castellarian, an artist, archivist and librarian, is describing a motif that runs throughout his creative work. "It's the great creative metaphor," his wife, Diane Teramana, an artist and avant garde filmmaker, agrees. "Everything is constantly changing, moving backwards, switching in on itself." She adds, "We are big snake fans."
We are in Castellarian's small office, in the Woodstock home he and Teramana have shared for the past 13 years. The snake image occurs and reoccurs throughout the oil paintings and photographs that wind around an extensive shelf of art books in one corner. On the opposite wall hangs a large framed photograph of the Ohioan Serpent Mound—the thousand-foot-plus winding effigy of earth and grass, dating from more than two thousand years ago. The two even have snake tattoos on the inside of their forearms; matching in theme if not design. "I've always thought," Castellarian adds, "that the image comes from an intuitive understanding of human conception. Even in Hindu mythology, the central myth of creation is a serpent wrapped around an egg."
Like the ancient Serpent Mound, both artists emerged from Ohio. Its clash of cultures and people, as well as the intertwining of their own personal narratives with the state's history, has always been the central subject matter, canvas, and backdrop of their art. Both descend from families that immigrated from Italy to work in the state's milling industries. Teramana's grandparents died tragically before their five children were grown. That story, and her family's resulting diaspora,echoes throughout her art and films.
Back to Ohio
Teramana and Castellarian met when they were both art students at Ohio State University. After graduation both moved to the East Coast—Castellarian got a job as an archivist at the Museum of Modern Art, and Teramana married and had two sons in Westport, Connecticut. They both eventually returned to their roots, where their paths crossed again. Castellarian came back to get a library degree and then worked for Columbus College. After separating from her first husband, Teramana returned to live and work in Cincinnati where she began experimenting with video and performance art. That's when friends reconnected them and they began their long personal and creative collaboration. They lived first in Cincinnati, and then in Columbus,where Castellarian worked as an archivist and art librarian.
Upon Castellarian's retirement, they headed back to the East coast, thinking they would settle in Provincetown. On the way to Massachusetts they stopped to visit a friend in Rhinebeck and were captivated by the art and artisans of the Hudson Valley. They decided to stay, first living in Kingston's Rondout and then moving to their house in the Zena woods.
Museum of the Sacred and Profane
Their home, a mid-century contemporary covered with cedar siding, was designed to naturally arise from and blend with the almost four acres of woods that surround it. Modernist sculptures of metal and ceramic dot the landscape, hinting at the home's eclectic interior, but never detracting from the omnipresent feeling that no matter what the prevailing issue or trend du jour, all and everything eventually returns to the earth. A simple wood chip path snakes around the home and evolves into a small front deck marking the entrance.
Inside, an open-living space centered under a slanted, two-story ceiling forms the light-filled heart of the 3,700-square-foot home. Five rectangular skylights, like slashes from an artist's brush, illuminate the space from above. Like galleries in a museum, large open doorways encourage the flow of light, enlarging the space to include adjacent rooms. A kitchen and formal dinning room are demarcated by a glass block wall. Sliding glass doors open onto a sunroom filled with plants where it's comfortable enough to sit and watch the winter snow.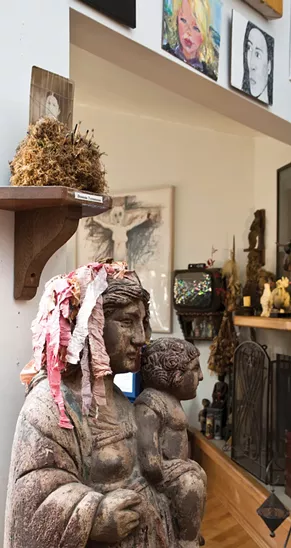 7 slides
Everywhere is art. Everywhere is the juxtaposition of divergent voices and creative disciplines splashed over the sprawling white canvas of their contemporary home. A wooden box painted by an outside artist from Kentucky faces a photo of Indian Holy men and a bathroom decorated with Mexican devotional paintings. A reel of forgotten film, rolled and sculpted into a Shofar-like horn, curls toward a wall of ornate crucifixes. Taxidermied ducks hang in suspended flight over a ceramic sculpture of the Buddha. It's a place where tragedy and memory, the shocking, the colorful, the humorous, the sacred and the profane all have their place. It serves as testament to the power of art to engage with any subject matter, sometimes transforming it, but always looking straight on, unflinchingly.
Paintings that Move
As an artist and filmmaker, Teramana has never shied from the charge of looking at all aspects of life. "Diane was really a pioneer of women's video art in the `70s and `80s," recalls Castellarian. In her avant-garde films and photography, she's always tackled the sad, the profane, and the dark head on. Originally, she studied painting and film, but the art of video was especially attractive to her. "I was always obsessed with movies," recalls Teramana. "What attracted me was the visual component—not necessarily the linear or documentary aspect but the idea of creating 'paintings that moved.'"
In 1990, her art and audaciousness met up with history. Robert Mapplethorpe's controversial show "The Perfect Moment" opened in Cincinnati to immediate protests. The show was shut down and the curator was arrested, but not before Teramana filmed the event, with Castellarian interviewing protestors and attendees. The resulting film, The BruHaHa, was a record of the show as well as a humorous, cutting commentary on censorship and art. Before seeing the Mapplethorpe show, Teramana didn't realize anyone else was engaging with subject matter that was so taboo. With the Mapplethorpe show she "broke loose." Inspired by his openness, Teramana curated "Sins of the Flesh," a collection of films that were considered obscene by filmmakers that had somehow been deemed "objectionable."
What Comes Naturally
A long hallway leads past a bathroom—decorated with oil painted diagrams from an African medical clinic—into their master bedroom suite where paintings, family photographs and sculpture line the walls. There is also a full bathroom with a tub and another deck. Down the hallway are also the couples' respective offices: Teramana's is filled with a wall of videos and photographs and lit by another skylight. Downstairs, a finished walkout basement has extra sitting and studio space as well as an extra bed and bathroom. From there a sliding glass door leads back out into the woods.
Over her long career, Teramana has created several other films and performance art pieces exploring the dark and taboo aspects of society as well as her own personal history. In much of her work she's attempted to approach the shocking by combining it with the humorous. However, she never set out to be audacious or brave; really she just did "what she was inclined to do." Her video art has been exhibited at the Experimental Television Center, both the Kleinert/James Gallery and Center for Photography in Woodstock, and the Dorsky Museum in New Paltz. Most recently a retrospective of Teramana's work was exhibited at the Wave Pool Gallery in Cincinnati.
Inside and outside, both Teramana and Castellarian have created a space to celebrate what is natural, even if what's natural is something we don't always want to see.