In simplest terms, a straw-bale home uses compressed bales of straw as building blocks for its nonloadbearing walls. The extrathick walls have so much thermal mass, they maintain an even interior temperature using minimal energy. Practically the most ancient form of home construction, modern techniques have virtually eliminated straw bale's main drawback—risk of rot—but due to the wall width necessary to contain the bales, it's best for larger lots.
Gomes is the assistant park manager for Minnewaska State Park Preserve. McGinnis is an outdoors educator. Together 11 years and married for four, Gomes and McGinnis recently had a baby daughter, Arden. Gomes's brother Lou and his cat Marmalade also reside with them. "We lived as inexpensively as possible for years, sometimes in trailers or park housing, and we read a lot about various types of green home construction before we committed to straw bale," says Gomes. "We went with some extras such as hand-made mahogany window frames and doors, so our home probably cost 25 percent more than conventional stick frame construction, but if we'd used cheap windows and ready-made cabinets, it might have been about the same."
The Straw Bale Difference
click to enlarge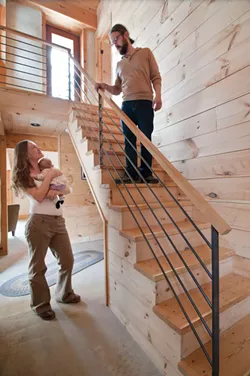 Outside, it's a frosty winter day, with several inches of fresh snow. The small north-facing windows fronting the street lend privacy, but they're also smart thermally. Inside, it's over 70 degrees. Brilliant sunshine pours through the south-facing floor-to-ceiling sliders off the living area. With its Japanese-inspired lines and utter lack of clutter, the house looks rather Zen, yet with a plush, dense, substantive vibe.
Until you have actually been in a state-of-the-art straw-bale home on a winter day, it's fairly challenging to describe precisely what makes it feel so different, except that the massive stucco walls seem especially warm and solid, like a preternatural nest. The Gomes-McGinniss house is also very quiet, except for the pure tones of jazz occasionally resonating from wireless speakers. There's no vibration when you shut a door or a window; nothing rattles.
"It's the thickness of the walls that makes such a difference," Gomes explains. "Keeping the thermostat at 70 in the winter is kind of ridiculous for me and Jamie, but it's great for the baby, and we can easily afford to do it because of the radiant floors, passive solar, and on-demand propane boiler." The home's electricity is provided by solar panels, and there's also a tankless hot water heater.
In America, straw-bale homes have been around for over a century, initially prevalent in areas without abundant timber. But given today's demand for renewable, minimally processed, locally available building materials, they're lately popping up even in woodsy locales like Kerhonkson. The Gomes-McGinniss home is the second professionally built straw-bale home completed in the immediate vicinity. Down the street, a couple is building a third by themselves.
Gomes says he was initially worried about obtaining a mortgage—the couple had saved enough money to begin construction, and they also had financial help from his parents—but when they applied for financing, Ulster Savings "was really cool," Gomes says. One reason: Modern straw bale is more flame retardant than a stick-built house. Another factor: Homeowners selecting straw bale are unlikely to be careless borrowers. It's all about thinking ahead.
"Now is the time to do it, if you're going to build straw bale, or really any kind of supergreen new construction," says Gomes. "In New York and at the federal level, there are currently a lot of tax incentives and rebates available, and they won't be around forever."
A Nest near Minnewaska
click to enlarge
As committed environmentalists, Gomes and McGinniss spent years plotting and planning their dream home. The book they most highly recommend is
EcoNest
by Paula Baker-Laporte and Robert Laporte (Gibbs Smith, 2005).
EcoNest
makes the point that a bird building its nest doesn't fly vast distances for special twigs, nor does it build a home larger than it needs. Instinctively, it creates a natural, nurturing, shelter—excellent advice for humans. Like an advanced nest, straw bale creates less waste and avoids chemical sensitivity pitfalls.
Gomes grew up near Minnewaska and always dreamed of someday building a home nearby. He also worked at the park after graduating from forestry school. In 2003, the couple bought two-and-a-half acres of land nearby. For about six years, Gomes and McGinniss moved around the state, holding various positions within the park system. When the assistant manager's post unexpectedly opened up, Gomes applied, and landed the gig he says he'd be happy to have for the rest of his life. "We never considered selling the property, but I feel really lucky in a lot of ways that we were able to get back here when we did and think about starting a family," says Gomes.
From Slab to Stucco
With a fairly precise building scheme in mind, the couple found William Johnson, a veteran Hudson Valley homebuilder with substantial timber-frame construction experience, in late 2009. While Johnson had never built with straw bale before, he was enthusiastic. They neatly negotiated a price for a 1,650-square-foot home with the specific energy-efficient systems and overall materials desired, a sum that was not disclosed.
Gomes prepared the property for construction by cutting down trees. After the house was built, with a friend's help, Gomes installed five-inch half-round galvanized metal gutters, for a total materials cost of $700. Gomes also laid some of what will eventually be a large bluestone patio surrounded by permaculture.
In spring 2010, Johnson's crew poured a concrete slab foundation embedded with radiant heat pipes. Next, they built a white pine frame and then put up the exterior roof, so they could have a dry place to work while inserting the straw bales into the timber-frame skeleton. About 350 bales of straw from the Esopus flats were used in the walls. Conventional structural insulated panels finished the vaulted interior ceiling.
The bales were sprayed with "hydraulic" lime, a stucco made from fossilized sea shells; no cement was added. An unusual attribute of lime stucco is that it's somewhat self-healing—settlement cracks repair themselves. The lime continues to harden over time. It's also very alkaline, so bugs, mold, and fungus cannot survive. The house exterior was sealed and painted with a creamy wash. The interior was left natural.
Hunting for bargains, the couple found most of the lighting fixtures on the Internet. The minimalist steel stair railing was welded by Sandro Niessen, a metals fabricator based in Highland. Johnson's crew crafted the perfectly scaled kitchen cabinets. The polished cast-concrete kitchen countertops were made by Bahko Artisinal Concrete in Stone Ridge. The fossil-laden limestone tiles in the bathrooms came from Kingston's Catskill Kitchen and Bath.
Of note is the wall with a pocket door that separates the living area from the den. Instead of the sheet rock called for in the original plan, at no additional cost to Gomes, Johnson's carpenters made a simple but ornamental pine wall using ship-lap construction—vastly more elegant than tongue-and-groove. "Will never steered us wrong. We went a little over budget, but this is our home forever," says Gomes. "As the mother of an infant," says McGinniss, "I have a lot of peace of mind knowing how free from toxins our home really is."
Resources

Home Design and Construction

William Johnson Construction/ Will III, Inc.
New Paltz
(845) 255-0869
Willbuilders.com

Custom Concrete Countertops
Bahko Artisanal Concrete
Stone Ridge
(845)430-3070
Bahkoconcrete.com
Bathroom Tile & Fixtures
Catskill Kitchens and Bath, Inc.
1094 Morton Boulevard, Kingston
(845) 335-4880
Photovoltaic System Design & Installation
Lighthouse Solar-Hudson Valley
4 Cherry Hill Road, New Paltz
(845) 417-3485
Lighthousesolar.com/Hudson-valley


Exterior Paint and Stain
William Brereton
Independent house painter
Shokan
(845) 532-8915
When Jorge Gomes and Jamie McGinnis chose straw-bale construction for their timber-frame home in Kerhonkson, they knew they wanted to build a small two-bedroom, two-bath house with a large central living area, and employ as many locally sourced materials and workers as possible.