click to enlarge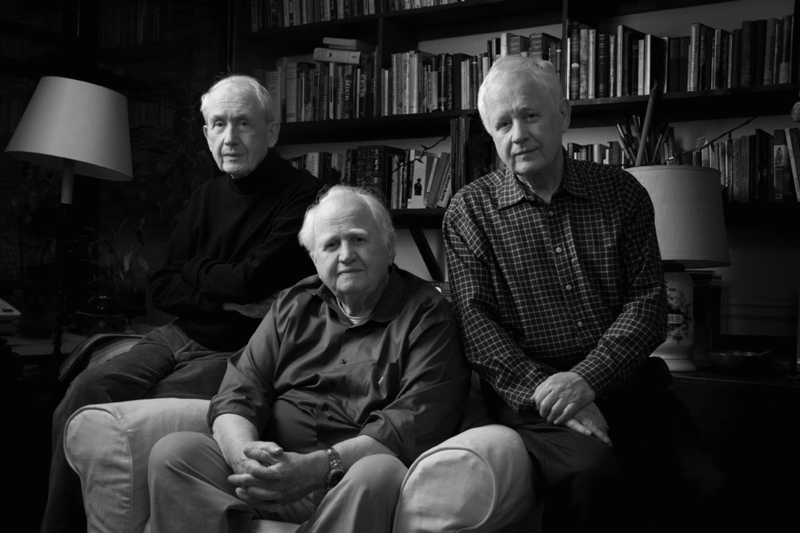 There's a little-known tunnel that goes straight from the Upper West Side to Woodstock," says Alphie McCourt. Angela Sheehan McCourt's youngest son has just published a memoir, A Long Stone's Throw. You might say it's a family tradition: His brother Malachy has two bestsellers under his belt (A Monk Swimming and Singing My Him Song), and big brother Frank is the Pulitzer Prize-winning author of Angela's Ashes, 'Tis, and Teacher Man.

All three are slated to appear at the Bearsville Theater on February 15 during the Woodstock Memoir Festival. They've agreed to an interview at Rosie O'Grady's, a congenial eatery near Times Square where the McCourts and an amalgamation of friends meet for monthly lunches, a tradition that started in 1973. Though the core group is 20 or so, the moveable feast "swelled to bursting on the heels of Frank's books," reports Alphie. Visiting literati included William Kennedy, Pete Hamill, Mary Gordon, Thomas Keneally, and others; one regular called it "stargazing."
Alphie and his wife had a weekend place in Woodstock during the 1980s. "We'd start to feel better as soon as we crossed the bridge," he recalls. Malachy's also lived locally—he wrote A Monk Swimming in Krumville. Frank splits his time between Manhattan and Connecticut.
The door swings open, and in blows the force of nature that calls itself Malachy McCourt. The actor, author, Green Party gubernatorial candidate, and "larger-than-life of the party" is nursing a head cold. "I'm renting myself out to insomniacs," he declares. "I'll give you the full details of my cold, and either I'll bore you to death or put you to sleep. Either way, I'll collect a check."
"You could write a memoir of your cold," Alphie says. It would probably be a bestseller.
"Malachy can turn the world on its ear with a phrase," Alphie observed before his arrival; one senses such praise would be met with derision. At the book launch for Singing My Him Song, Alphie introduced his brother. "When the McCourts are around, everyone expects fun, fun, fun, every minute. I thought, for once let's not do it that way." He spoke at length about Malachy's kindness, how he took care of friends who were sick or in need. When the author got up, he said, "Thank you, Alphie, for that eulogy."
Reverence will get you nowhere. Ask Malachy how he writes, and he says, "On my arse." He elaborates: "I'm always looking, when I go to readings, for a magic formula that will allow me to write without writing."
"You could try talking," Alphie says, dryly.
"People say, just talk into a microphone." Malachy shudders. "I can't. I need the pen in my hand, that symbiotic relationship."
Malachy's pen has a way with words.
A Monk Swimming
is a hymn to excess and abandon. In
Singing My Him Song
, he cleans up his act without losing an ounce of his native joy.
"America loves winners, but you need a sense of superiority about losers," he says. "Memoir is like going up icy steps: two forward, three back. As long as you're triumphant at the end, your memoir will be a success." Malachy's livid that Laura Bush got a $7 million dollar advance for her memoir. "Who gives a fiddler's fuck about the wife of the most unpopular president in the history of the US? Where's the triumph in sleeping with him?"
Of his brothers' books, he opines, "Alphie's version is right on the button. He has an astoundingly clear memory, and it's simply and beautifully written." Alphie looks as if he's just been eulogized, but Malachy continues. "When Frank wrote Angela's Ashes, I was amazed by his accuracy and perceptiveness, and more importantly, by the charity he exhibited to those people who were awful to us. He carries no chip."
Frank hasn't arrived, and Malachy says he's "off doing something with students" and may not make it. When Alphie notes that Frank hasn't been to Rosie O'Grady's for several months, Malachy shrugs, "If he doesn't come back here, we won't let him in."
But like his countryman's Godot, Frank McCourt has a powerful presence even without showing up. The conversation keeps circling back to Angela's Ashes, the 1996 phenomenon many credit with launching the current memoir boom. "When I look back on my childhood, I wonder how I survived at all," Frank wrote. "It was, of course, a miserable childhood: The happy childhood is hardly worth your while. Worse than the ordinary miserable childhood is the miserable Irish childhood, and worse yet is the miserable Irish Catholic childhood." After deftly acknowledging the story's familiar outlines, he goes on to make his miserable Irish Catholic childhood gloriously unique and specific.