click to enlarge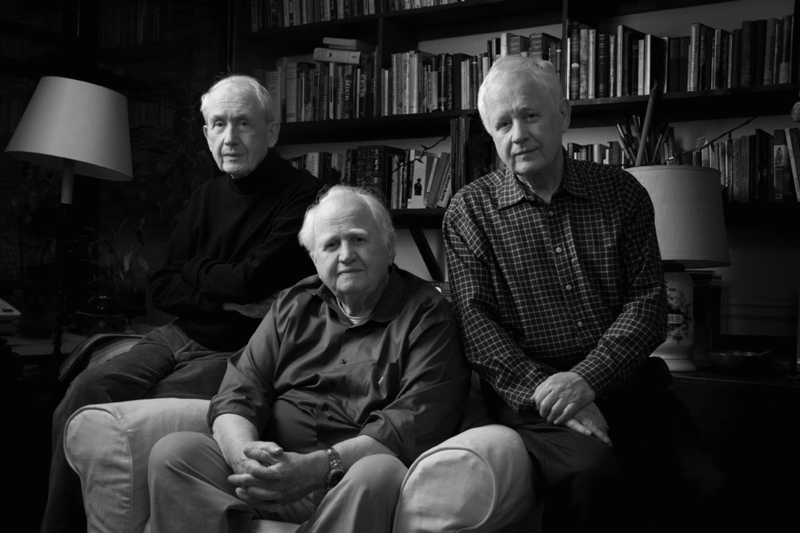 There's a little-known tunnel that goes straight from the Upper West Side to Woodstock," says Alphie McCourt. Angela Sheehan McCourt's youngest son has just published a memoir, A Long Stone's Throw. You might say it's a family tradition: His brother Malachy has two bestsellers under his belt (A Monk Swimming and Singing My Him Song), and big brother Frank is the Pulitzer Prize-winning author of Angela's Ashes, 'Tis, and Teacher Man.

All three are slated to appear at the Bearsville Theater on February 15 during the Woodstock Memoir Festival. They've agreed to an interview at Rosie O'Grady's, a congenial eatery near Times Square where the McCourts and an amalgamation of friends meet for monthly lunches, a tradition that started in 1973. Though the core group is 20 or so, the moveable feast "swelled to bursting on the heels of Frank's books," reports Alphie. Visiting literati included William Kennedy, Pete Hamill, Mary Gordon, Thomas Keneally, and others; one regular called it "stargazing."
Alphie and his wife had a weekend place in Woodstock during the 1980s. "We'd start to feel better as soon as we crossed the bridge," he recalls. Malachy's also lived locally—he wrote A Monk Swimming in Krumville. Frank splits his time between Manhattan and Connecticut.
The door swings open, and in blows the force of nature that calls itself Malachy McCourt. The actor, author, Green Party gubernatorial candidate, and "larger-than-life of the party" is nursing a head cold. "I'm renting myself out to insomniacs," he declares. "I'll give you the full details of my cold, and either I'll bore you to death or put you to sleep. Either way, I'll collect a check."
"You could write a memoir of your cold," Alphie says. It would probably be a bestseller.
"Malachy can turn the world on its ear with a phrase," Alphie observed before his arrival; one senses such praise would be met with derision. At the book launch for Singing My Him Song, Alphie introduced his brother. "When the McCourts are around, everyone expects fun, fun, fun, every minute. I thought, for once let's not do it that way." He spoke at length about Malachy's kindness, how he took care of friends who were sick or in need. When the author got up, he said, "Thank you, Alphie, for that eulogy."
Reverence will get you nowhere. Ask Malachy how he writes, and he says, "On my arse." He elaborates: "I'm always looking, when I go to readings, for a magic formula that will allow me to write without writing."
"You could try talking," Alphie says, dryly.
"People say, just talk into a microphone." Malachy shudders. "I can't. I need the pen in my hand, that symbiotic relationship."
Malachy's pen has a way with words.
A Monk Swimming
is a hymn to excess and abandon. In
Singing My Him Song
, he cleans up his act without losing an ounce of his native joy.
"America loves winners, but you need a sense of superiority about losers," he says. "Memoir is like going up icy steps: two forward, three back. As long as you're triumphant at the end, your memoir will be a success." Malachy's livid that Laura Bush got a $7 million dollar advance for her memoir. "Who gives a fiddler's fuck about the wife of the most unpopular president in the history of the US? Where's the triumph in sleeping with him?"
Of his brothers' books, he opines, "Alphie's version is right on the button. He has an astoundingly clear memory, and it's simply and beautifully written." Alphie looks as if he's just been eulogized, but Malachy continues. "When Frank wrote Angela's Ashes, I was amazed by his accuracy and perceptiveness, and more importantly, by the charity he exhibited to those people who were awful to us. He carries no chip."
Frank hasn't arrived, and Malachy says he's "off doing something with students" and may not make it. When Alphie notes that Frank hasn't been to Rosie O'Grady's for several months, Malachy shrugs, "If he doesn't come back here, we won't let him in."
But like his countryman's Godot, Frank McCourt has a powerful presence even without showing up. The conversation keeps circling back to Angela's Ashes, the 1996 phenomenon many credit with launching the current memoir boom. "When I look back on my childhood, I wonder how I survived at all," Frank wrote. "It was, of course, a miserable childhood: The happy childhood is hardly worth your while. Worse than the ordinary miserable childhood is the miserable Irish childhood, and worse yet is the miserable Irish Catholic childhood." After deftly acknowledging the story's familiar outlines, he goes on to make his miserable Irish Catholic childhood gloriously unique and specific.
Neither brother read Frank's work-in-progress. (Malachy states, "That's a rule of thumb: Don't show anything to relatives until it's too late.") But nobody could have anticipated the spotlight Angela's Ashes would turn on their lives. "A number of people in Limerick took exception," says Malachy. "One guy tried to organize a book-burning—he said they'd burn 20,000 copies. I told Frank, 'I hope it's the hardcover. That'd add a lot to your sales.'" The objection? "It wasn't respectable."
Alphie adds, "One of the oddest things was people who said 'We didn't have much either, but...' as if they were apologizing for having food in the kitchen. At one point an English newspaper ran a contest for anecdotes about families who were even poorer than ours. The winner wrote, 'We were so poor we lived in a hole, in a ditch by the side of the road.'" Malachy thunders righteously, "Ye were lucky to have a hole!" and both brothers laugh.
The lunch group trickles in. Today's celebrants include playwright Patrick Fenton and actress Mary Tierney; filmmaker Teressa Tunney; Malachy's sons Conor and Malachy Jr. (in town from Bali, where he runs a scuba school); and numerous writers. Mark McDevitt congratulates Alphie on his publication. "There's no room on the shelves for all these McCourt books. It's a genre!"
Reached by phone in Connecticut, the genre's progenitor says it's "very gratifying to read their version of events." The three brothers recently appeared at Marymount Manhattan College. "Each of us talked for awhile, with a lot of jeering and booing back and forth," Frank reports.
Though he and Malachy once shared the stage in a semi-improvised Off-Broadway play called A Couple of Blaguards, Frank doesn't consider himself a performer. "I put in my 30 years of teaching. Now I just want to sit quietly at the desk and let it come," he says, adding, "Students are a very tough audience. They're heat-seeking missiles."
Teacher Man details his career in New York's public schools, where the one-time dropout flummoxed administrators with nontraditional assignments ("Write a suicide note") and shared his passion for words with thousands of lucky teenagers.
"I loved teaching, but writing is what I was put on this Earth for," he says. "It was always in the back of my mind while teaching: You should just shut up and write." But he was "too busy making a living" and lacked the self-confidence to make such a leap. He published his first book at 66, disproving F. Scott Fitzgerald's maxim that there are no second acts in American lives.
Frank's philosophy, as a teacher and for himself, is "to move from fear to freedom. You can't ever achieve it, of course—there's no Fourth of July in the human psyche—but you move slowly toward it, and if you're lucky, you can feel the shackles falling off."
All over the world, he's had former students show up at his author events. "It's very gratifying to have been a writing teacher, so-called, and then to go out and prove you weren't talking through the hole of your arse." His advice to aspiring writers? "Scribble. Don't try to write, just scribble. If you tell yourself, 'I'm going to write a book,' or a play, you're sunk. Do what an artist does, sketch it out in a very casual way. The most important thing is to sit in the chair." Told that, Malachy says the same thing; he deadpans, "And where d'you think he got that?"
It's telling that the McCourts' memoirs bear similar dedications. Alongside a litany of wives, friends, and children appear these words: "To my brothers, Malachy, Michael, Alphonsus. I learn from you, I admire you, and I love you" (Angela's Ashes); "With much gratitude to the brothers Frank—for opening the golden door and leading the way—and to Mike and Alphie with my love and thanks" (A Monk Swimming); "To my brothers, Frank, Malachy, and Michael, for blazing more than a few trails." (A Long Stone's Throw).
Which leads to an obvious question: Will fourth brother Mike, a San Francisco barman, ever write a memoir? Frank laughs. "Mike says, 'I'll write a memoir when the other fuckers are dead.'"

THE WOODSTOCK MEMOIR FESTIVAL
February 13-16
Sponsored by the Woodstock Byrdcliffe Guild, Golden Notebook, and Authentic Writing Workshops
Panel discussions, booksignings, gallery shows, and performances with Suzanne Bachner, Bob Brader, Laura Shaine Cunningham, Martha Frankel, Carl Mateo, Fred Poole, Susan Richards, Wendy Salinger, Bar Scott, Linda St. John, Marta Szabo, Abigail Thomas, Gioia Timpanelli, Janine Pommy Vega, Michael Vietch, Robert Burke Warren, and Judy Whitfield.
Featured event:
AN EVENING WITH THE McCOURT BROTHERS
February 15 at 7pm, Bearsville Theater
For more info: (845) 679-2205; www.woodstockmemoirfestival.com.
click to enlarge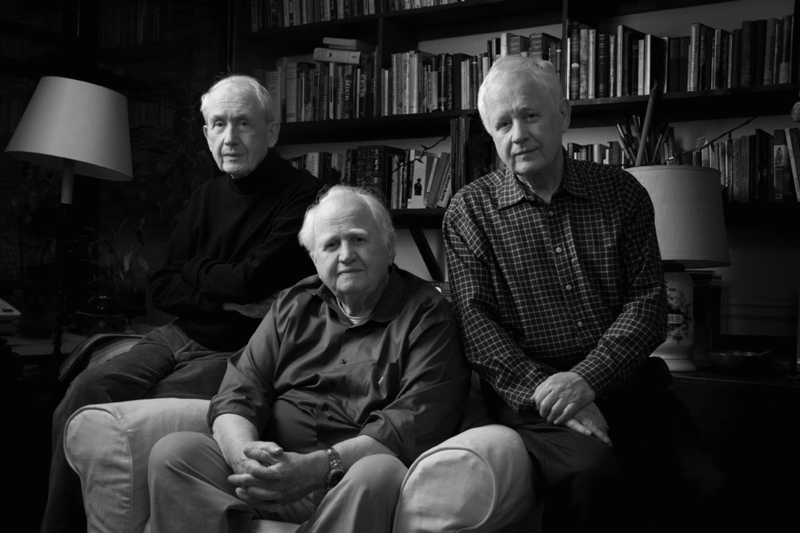 click to enlarge