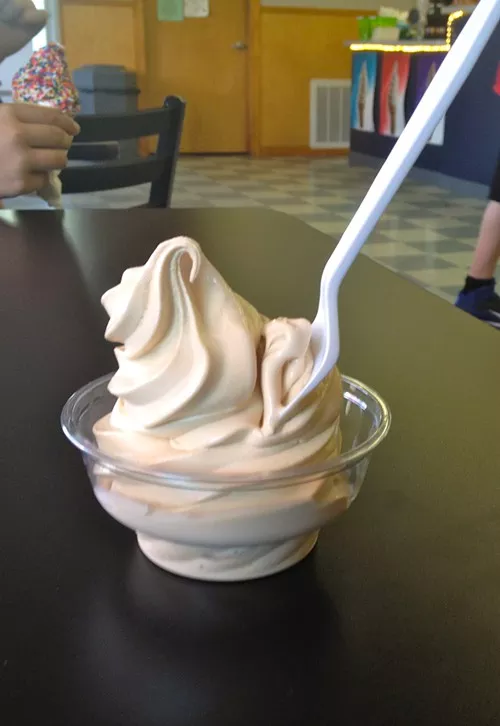 Soft serve coffee ice cream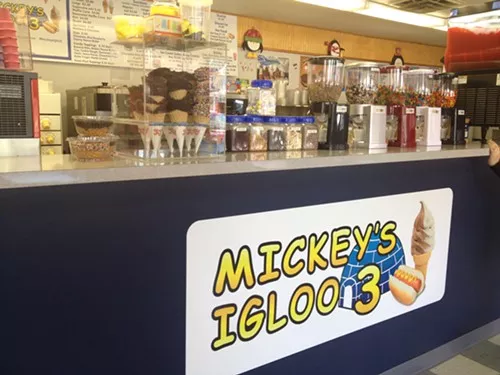 The counter at Mickey's Igloo 3 in Saugerties
Mickey's Igloo 3 just opened in Saugerties last month in the storefront that was home to the old deli. A couple Saturdays ago when the mercury finally hit 70 we decided to try it out in the afternoon. Taking the kids out for ice cream is one of my favorite Spring time activities. When we arrived there around 3 pm, the outdoor picnic benches were packed with families and little leaguers. We decided to eat our ice cream in the bright and clean interior.
I had a bit of a sore throat so I was eager to try out a bit of soft serve ice cream, and as my luck would have it, my favorite flavor coffee was the flavor of the day. A kiddie cone of vanilla soft serve with sprinkles and a Spiderman ice cream stick were a hit with the kids. They also serve milkshakes, egg creams, and colossal sundae specials. Customer service was very friendly, and it was fun watching everyone place their order, and carry their ice cream creations outside. Mickey's Igloo 3 is located at 72 Main Street in Saugerties, near the Cahill Elementary school. If you are in the mood for a delicious ice cream treat and you're in the Saugerties area, it's definitely worth a stop!
I have been covering the Hudson Valley on my Hudson Valley Good Stuff blog since January 2009. Please follow Hudson Valley Good Stuff on Facebook, and subscribe to my newsletter.