Antlers are not a common sight on local farms, but then Highland Deer Farm in Germantown is not your average farm. For 25 years owner Mark MacNamara has been working to provide his customers with high quality, healthy alternatives to mainstream meats. A trim, calm, soft-spoken 60-year-old man who clearly loves animals, MacNamara was Curator of Mammals at the Bronx Zoo for ten years. In 1984 he bought a former dairy farm on 50 acres of rolling hills in the Southwestern corner of Columbia County and put his PhD in deer behavior and passion for exotic hoof stock to work. The result offers compelling reasons to eat outside the box.
The farm is currently raising red deer—native to Europe—as well as fallow deer, elk, and a red deer-elk hybrid that MacNamara calls super reds; the result is "a large deer that has a relatively calm disposition and grows faster than red deer but is smaller than pure elk." He used to have white-tailed deer, but predation from coyotes proved too much of a problem. He also raises some antelopes, like waterbuck, addax, and scimitar oryx as breeding stock for zoos, animal parks, and collectors around the world. Their bold patterning and long, elegant horns make for an arresting sight in the fields.
Three adjacent pastures show differences in the dietary habits of the various species; a quick survey reveals that mouflon (wild sheep) don't eat thistles, the red deer don't like milkweed, and the antelope eat pretty much everything. As we walk down towards the red deer, all the bucks raise their heads and turn to look at us in unison, antlers high. The absence of millennia of domestication is evident in all the species; unlike cows, they all run to the farthest corner of the field and crowd there, watching us intently.
Because he is limited by the size of his farm, over the years MacNamara has partnered with about 15 other farmers across the state to raise animals according to his standards, and they deliver animals as needed throughout the year. They process about 10-12 deer per week and sell them at local weekly markets (Rhinebeck and Kingston) as well as directly to restaurants and by mail order all over the country. Prime cuts like steaks, roasts, and loins are packaged whole, while the rest—about 60 percent of the total volume—is sold as sausage, jerky, and other products. These value-added products are made at the Smokehouse of the Catskills in Saugerties and Mountain Products in LaGrangeville. Customers can also order animals and come pick them up at the farm, either whole or butchered.
There are also bison on the farm, though the herd is currently just a bull and two cows. In addition to the hoof stock, Highland Farm also raises ostrich and emu for meat and eggs. Both birds also have dark red meat that looks and cooks very much like the venison and bison. An ostrich egg is an impressive object: roughly softball-sized, with a thick shell, it's the equivalent of a dozen chicken eggs. At $20 each, they're expensive, but if neatly opened the durable shells can be reused for artwork or vessels. MacNamara recommends drilling holes at both ends and blowing out the eggs so the shells can be saved. Ostrich and emu meat will be available in the fall, along with the mouflon, native to Corsica and Sardinia, and considered to be one of the ancestors of domestic sheep. The males have large, elegantly curled horns, and MacNamara says mouflon tastes like lamb but is significantly smaller: a carcass might weigh just 40 pounds. Highland Farm sells boar as well, which they used to raise on site, but MacNamara says boar are difficult; they're very destructive and need special fencing. Now he works with a farmer in Vermont who raises nothing but boar.
There are advantages to raising these wild species; game is not covered under the Meat Act, and can thus be slaughtered and processed on the farm, saving considerable expense (though bison are slaughtered elsewhere because of their size). MacNamara explains that slaughter is done with no restraint; the deer are led with food into a smaller solid-walled pen behind the processing facility and shot from a second floor window with a hollow point .22 bullet. "It's a small caliber, so it's not too loud; they're out there, milling around, and we drop one and the others don't even notice." Deer are strictly regulated by New York State, however, and checked regularly for tuberculosis and Chronic Wasting Disease, which is similar to BSE. Because of the regular veterinary visits, deer need more handling than domestic species and MacNamara developed humane restraints to immobilize the deer during exams and treatment: "I designed them for deer, but realized they would be really useful for zoo animals."
This insight led to his other business: making custom hydraulic restraints for large exotic hoof stock from gazelles and giraffes to hippos and even elephants. He sells his "Tamers" all over the world, and travels extensively installing them and training people in their use, as well as consulting for the zoos and animal parks who buy them. The Tamers, which are rather like dry docks for animals, are V-shaped devices that animals are led into by means of a narrow chute. The machines immobilize the beasts by squeezing them between the two padded sides and lifting them off the ground, allowing safe access to every part of them. The goal is to avoid using knockdown drugs that can harm animals, especially large ones. Imagine a sixteen-foot tall giraffe weighing more than a ton toppling over onto the ground and it's easy to see the risk. The equipment sales help make the farm financially viable.
It's obvious talking to him that MacNamara's main passion is working with these exotic animals; he waxes enthusiastic about the behind-the-scenes working of zoos and how handling techniques are becoming safer and more humane in part because of the machines that he manufactures. But his love of animals clearly extends to those on the farm: "It always drives me crazy when people think that farmed animals aren't cared for, since taking care of the animals is number one. It's our business to keep them healthy. We call ourselves free-range and natural, but not organic. We use locallyw grown grain and corn, which we don't control, but the animals are happy and that's how we like it."
A large red deer carcass hangs in the center of the large processing room, looking much like a Francis Bacon painting: fleshy meat against cold geometry. The mottled pattern of the animal's hide is still faintly visible in the subcutaneous tissue covering the muscles on the back. A few drops of blood stain the otherwise immaculate concrete floor beneath the neck. Two doors on one side lead to walk-in refrigerators full of bagged and labeled meat, ostrich eggs, and a much smaller fallow deer carcass. Despite the wide range of species on the farm, all the elk and deer is packaged and labeled as venison.  MacNamara maintains that when they're farmed, the flavor differences between the different animals are negligible, so there's no point in labeling them separately.
The big difference with game animals is that they don't have the intramuscular fat which gives beef its marbling. This is not to say that venison is not tender—it is, very—but it's far less forgiving of overcooking. If you leave it too long on the grill, it will get tough. The best way to cook this meat is sous vide, so that it can be brought to exactly the desired temperature and no higher, then seared to finish. Lacking that technology, just pay attention and keep it nice and pink. Similar to duck, these meats play very well with local fruit, especially berries like currants made into pan sauces or chutneys.
Brian Kaywork is the chef at the Rhinecliff Hotel, and has been using venison from Highland Deer Farm for six years: "Because it's farmed, it has less gamy flavor than wild deer, and I think people like the milder taste." Kaywork uses the venison to make a meatloaf with a juniper-mulled wine glaze, and enjoys cooking with it: "Their product is always top notch; they know what they're doing." He is looking forward to experimenting with ostrich eggs. For the curious home cook, Kaywork advises: "make something you know how to cook well, and just switch the meat," like substituting venison loin for filet mignon in a special dinner. Kaywork wishes that Highland Farm would label the different species "so that I can get consistent results every time, " but MacNamara responds that "if they specify in their order, we can accommodate that, but most of them don't."
These meats all offer complex red meat flavor with much less fat and cholesterol than beef; venison loin is comparable to salmon in both. In addition to making healthy eating, they have luxurious textures and allow for all sorts of interesting new flavor pairings. Because they're farmed humanely and sustainably, they also make it possible to eat locally while also eating exotically. Broadening one's repertoire to include delicacies like venison, ostrich, and buffalo is the perfect recipe for enlivening home cooking. Pick up your game.
Highland Deer Farm
www.highlanddeerfarm.com
Peter Barrett writes prolifically about cooking locally sourced food at www.acookblog.com.
click to enlarge
click to enlarge
click to enlarge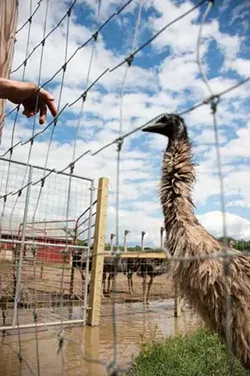 click to enlarge