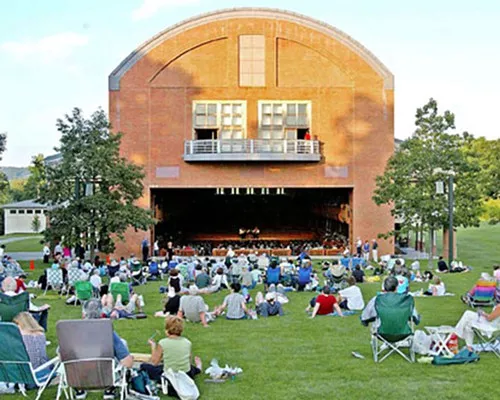 This season, Tanglewood is offering a slew of performers to entertain music lovers of all kinds. Having hosted the Boston Symphony Orchestra for 132 years, the venue in Massachusetts remains devoted to presenting classical music at its finest. Tchaikovsky, Wagner, Ravel and Rimsky-Korsakov, the Boston Pops Orchestra, and Yo-Yo Ma will be featured throughout July, in addition to Harbison's operatic adaption of The Great Gatsby, which will give audience members a unique experience of Fitzgerald's literary masterpiece and this summer's box office reimagining of it.
But before that, Melissa Etheridge will perform tomorrow, June 21, with special guest Eric Hutchinson, bringing a mixture of pop and folk-rock to the stage. Along the same lines, Jackson Browne, the Barenaked Ladies, Ben Folds Five, Guster, and the Steve Miller Band will all be performing throughout July.
The season will round-out with a program of Stravinsky and Dvorak and a set by the cellist's genre-splicing Goat Rodeo project, both to play in August. Additionally, Esperanza Spalding will help finish out the summer, a group which only represents the tip of the iceberg for jazz music at Tanglewood.
Check out the full lineup for a list of all the performers to grace the stage from June 21 to September 1.
For information about other music festivals this summer, click here.