click to enlarge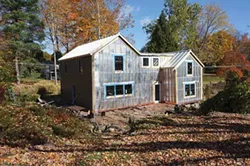 How can a family undergo a big home-energy makeover without having to pack up and move out? According to Lloyd Hamilton, it's possible with a deep energy retrofit. On January 12, Hamilton of Verdae LLC (geothermal system design, diagnostics, and evaluation), along with Gregory Pedrick of NYSERDA, will present a pilot project that is transforming poorly insulated, inefficient homes into part of the energy-efficient elite. What makes the Deep Energy Retrofit project different from other home-energy makeovers is that it focuses on the exterior of the house, minimizing the inconvenience to the homeowners. "You can do this while people still live there," Hamilton says. "It's like putting a sweater on the outside."
In NYSERDA's solicitation for deep-energy retrofit solution proposals, the project is described as going "above and beyond the current common practice of performing energy efficiency work," with an objective "to drastically improve the building envelope and insulation techniques found in residential buildings." Insulation, energy-efficient appliances, and innovative systems are designed to drastically reduce energy consumption, costs, and the carbon footprint—Hamilton predicts by well over 50 percent. "Seventy percent is the target for savings," he says. "We're working on old farmhouses with lots of air leakage and almost no insulation. We're taking the worst of the worst and making the best of the best."
Hamilton, whose company was one of the awarded contractors of NYSERDA's solicitation, has been working on high-performance, energy-efficient new homes for over 15 years, and he was involved with the first zero net energy home and business in New York. "By reducing the building's load by more than 50 percent, I was able to reduce the cost to install and operate the geothermal systems," he says. "That made it competitive with oil." The process for a deep energy retrofit starts with a free Green Jobs/Green New York energy audit, which involves testing air leakage and insulation. From there, the basis for the project is $5 per square foot of surface—everything from the basement floor to the roof—with a capital investment requirement. "Any building that is getting a face-lift—new windows, doors, siding, and roof—is a natural fit for a DER, since the expensive part is already going to be done," Hamilton says. In these cases, financing offered by the Green Jobs/Green New York program—up to $25,000—should be enough to cover the additional cost for the DER. Not only will the energy savings pay for the DER over time, but the retrofit will make for a more comfortable living environment as well, including better air quality, safer conditions with the removal of auxiliary heat sources, and better sound attenuation.
The two-hour seminar on January 12 will introduce the Deep Energy Retrofit project and its value. The workshop will be held at the Sustainable Living Resource Center, itself a model of green building, in Rosendale from 10am to 12pm. Attendees will tour one of the projects in Rosendale with the builder, Brian Mulder. "What we hope to do is develop an easy-to-follow step-by-step process that can be duplicated by competent tradespeople," says Hamilton. "Verdae will be activating a website (Deepenergyretrofit.com) that will provide guidance. I hope that this will give others the confidence to do deep energy retrofits." Preregister by e-mailing [email protected].
If you're interested in learning more, watch
this video
of Gregory Pedrick's comprehensive (nearly 40 minutes) presentation on the Deep Energy Retrofit project.