Garden gnomes and pink flamingos may be cute in theory, but they fall short when it comes to artisanal appeal and functionality. Luckily, you don't have to rely on the big garden centers and other plastic purveyors for your garden ornamentation. The Hudson Valley is home to a variety of artists that handcraft unique objects for your garden—from totems to trellises—that will make heads turn more often than your neighbor's row of bent-over wooden ladies.
All fired up
Some of the most interesting outdoor ornamentation in the Hudson Valley comes out of Stephen Fabrico's Rosendale studio. Though he makes a range of ceramic items, Fabrico is probably best known for his massive totems made of high-fired stoneware, work that was inspired by a Boy Scout totem from 1946 that stands on his property.
"They have a mystical meaning," Fabrico says. "If you look at totems from the Pacific Northwest, they were carved as icons and there's something about them. I didn't start out to make totems, but something about them clicked in my work."
A Fabrico totem is set on a 150-pound steel base, and he slides separate components over the armature to create structures that end up weighing about 300 pounds and are water-resistant due to silicon treatments between pieces and the 2,400-degree firing that inhibits any water absorption. The components have different themes, often nature and location inspired like those of Catskill Dream and Hudson River Totem, and, most recently, totems topped with a life-sized raven. "Carving clay is one of my favorite things to do," he says. "We press ferns, leaves, and wood grains a lot into clay because we like that natural look." Fabrico also creates pieces using found and recycled objects, from supermarket "slippery when wet" cones to UFO-shaped objects.
"I sold one last November called 'Extraterrestrial Totem," he says. "I found a three-foot piece of stainless steel that looked like a flying saucer, and incorporated that into a 10-foot sculpture. The challenge of all this is to find shapes that you like and that will coordinate with sculpture."
The other parts of Fabrico's work are for the birds—literally. Any one week, a visitor to his studio will find about 50 to 60 porcelain birdhouses and clay birdfeeders in different stages of completion. One of Fabrico's most popular birdhouses is the Zen Birdhouse, which looks very Japanese with its low, sloping roofs and Y-shaped cedar perch. He also makes the Mission Birdhouse, which Fabrico says popular among architects for its height and angles, and also and arts andcrafts birdhouse style. "It has a similar sloping roof [like the Zen Birdhouse] but the bottom is sloped out, too," he says. His squirrel-proof birdfeeder, is globe-shaped with holes big enough for birds but too small for squirrels and popular in bird shops throughout the country for its neat look and functionality. "Chickadees go in all day, and squirrels just kind of fall off it," Fabrico says.
Fabrico's studio is on the Hudson Valley Pottery Trail, and he welcomes visitors to his property to see an array of totems, bird feeders, bird baths, and interior objects. Visitors to the Unison Sculpture Show on June 1 at Unison Arts Center in New Paltz will be able to see some of his pieces.
Functional is naturally fashionable
One Clematis vine was all it took to change Janice Shields's life, and the look of countless local gardens.
"I bought a Clematis vine and I needed a trellis to support it," she says. "I made it out of the woods by my house. Someone saw it and liked it, so I made a couple for them. Then, since one person liked it, I started to make more and put them out in front of my house with a sign that said 'Trellis for Sale.'"
In 1995, Shields took the plunge and went full-time, starting up her natural outdoor garden ornamentation business, Hey Cut It Out. "The items that I make on a regular basis for wholesale and retail are trellises, arbors, benches, and obelisks, which are teepee-shaped, free standing garden trellises," Shields says. Often, she is commissioned for site-specific custom work, which she says is the bread and butter of her business and her favorite part of her work. For all of her work, she says she mimics the more ornate designs that one might use with planed woods. "In other words, using sticks to make arbors rather than planed wood and using branches to decorate rather than latticework," Shields says. "Each piece is totally unique."
The characteristic of her work is defined by what Shields calls a delicate touch. "Rustic furniture and garden ornamentation tends to be very heavy," she says. "I use a lighter touch and I think what attracts people is the delicacy. The wood that I use is not as heavy as a traditional artist might use so the diameter of the sticks I use in the work are smaller, giving it a delicate look. The construction is traditional, but it's almost feminine in its look."
For her pieces, Shields originally used only native hardwoods, and vines from the Berkshire area in Massachusetts. "Over the years, I've found that those materials, though beautiful, were fleeting in their lifespan in the garden," Shields says. "So I sought material that would be more long-lasting. That turned out to be Eastern red cedar, which is not plentiful in the Berkshires, but, 35 miles west of here, in Columbia and Duchess Counties, it's very plentiful."
Shields knew that there was a lot of development in these areas, so she got in touch with the people that clear the land and started buying red cedar from them. She says the wood has a lifespan of 15 to 20 years, and it now comprises all of her outdoor work.
Woodstock artist Bryan Perrin also does similar work, but in a spiritual context. Perrin uses natural materials to create reverent lawn and garden design, ritual spaces, shrines, and seasonal altars.
All under one roof
Rudy Hopkins's West Hurley store, Crafts People, is a one-stop shop for a round-up of decorative garden items. For the past 35 years, Hopkins has provided a place for local and non-local artisans to place their pieces on consignment. Today, he represents more than 500 artists in 6,000 square feet of space.
A visitor to Crafts People will find work by Lorri and Michael Wardell of Saugerties. "They do fountains and spirit houses," Hopkins says. "Spirit houses are little, ceramic, house like structures you put in your garden that keep away evil spirits. Good spirits reside there and make your garden thrive." He says their fountain designs are leaf-shaped with self-contained water movement.
Crafts People also features products from Woodstock Percussion, a popular international wind chime seller that is locally based. "They do chimes as well as garden bells," Hopkins says. "Garden bells sit in your garden and when the wind blows they tinkle away. There's maybe eight or 10 on bases arced in different ways. They're like a bell that used to be in old phones; they bang onto one another and cause this melodic sound." He says that Crafts People was the first place to sell Woodstock Percussion chimes. "[The chime maker's] wife used to saw the chimes and run them up one at a time," Hopkins says. "Now [Woodstock Percussion is] an international business, and I once told him, 'You can't sell chimes for rest of your life.' Boy, was I wrong."
Hopkins's other local recommendations are birdhouses by Sherri Cohen, who uses wood and copper to create what he calls an Old World charm, and statuary by Linda Aiello, who creates cherubs that hang or sit in the garden. Hopkins himself also creates hummingbird feeders and whimsically detailed birdhouses, which can feature window boxes, chimneys, and clay shingles.
Crafts People carries pieces by local artisans as well as others from throughout the country. Hopkins says he is always on the lookout for new talent whenever he travels to industry shows.
Hudson Valley as home (and garden)
"I've traveled all over this country and seen a lot of places," Fabrico says. "I think the Hudson Valley is the most inspirational. It has definitely influenced my life and I could never think of going back and making pots anywhere else."
So whether it's Fabrico's fired-clay sculptures, Shields's native woods, or Hopkins's homegrown crafters, chances are these works of art will feel indigenous to your garden's look.
click to enlarge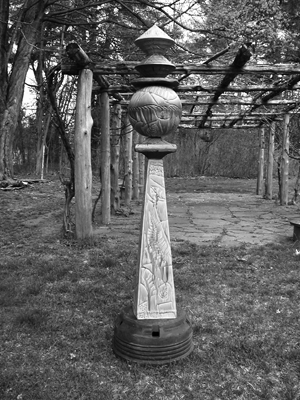 click to enlarge