click to enlarge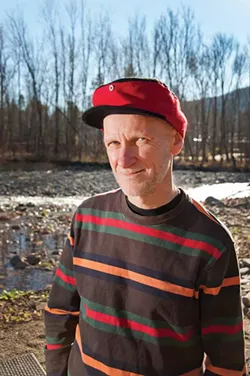 The Beatles. The Rolling Stones. The Who. The Clash. The Smiths.
If the final name in this pantheon of British supergroups is unfamiliar, veteran music journalist Tony Fletcher will change that. In his new book, A Light that Never Goes Out: The Enduring Saga of the Smiths (Crown Archetype, 2012), Fletcher, 48, makes the argument—persuasively and eloquently, over 600-plus pages—that the Manchester, England, quartet was the greatest band of the 1980s. In the space of five years, The Smiths recorded four bold, plaintive studio albums that scorned England's ruling institutions, toured sporadically, and commanded headlines. And suddenly, bitterly, they split up.
"The Smiths in the UK have reached a point in rock's rich tapestry [where] they are considered rock gods," Fletcher says over a vegan breakfast at Oriole9 in Woodstock. "In America, it's still more of a cult, and that's really fun and exciting."
Slight but wiry, a swimmer and triathlete, the author brims with energy. (He credits The Smiths' 1985 LP Meat Is Murder for his plant-based diet.) His words spill out in a torrent. This morning, Fletcher is especially amped up, having seen former Smiths frontman Morrissey in concert last night in Albany.
In recounting the career of The Smiths, Fletcher's book strikes a balance between the hyperbole of a fan and the insight of a longtime music journalist. "[They] expressed the hopes—and just as relevantly, the fears—of a generation unmatched by any other band of their era," Fletcher writes in A Light, and they attained this fame with an arsenal of "sexual ambiguity, political panache, collective confidence, and, especially, savage humor."
What makes The Smiths story especially compelling is its brevity. "I think we are all in love with the story of a group that broke up prematurely," Fletcher says. In fact, the hasty end burnished their legend. "This band broke up before making bad records, and very few bands have ever done that."
An English expatriate living in Mount Tremper, Fletcher spent three years researching and writing the book, which incorporates more than 50 interviews and extensive original research. Released in September in the United Kingdom and this month stateside, A Light that Never Goes Out is—and will remain—the defining Smiths biography.
Fletcher's music writing career began in Yorkshire, England, in 1977. Punk was scaring the horses and fans were making zines to honor their favorite groups. The 14-year-old schoolboy was caught up in the DIY ethos of the era. "It looked like fun, so I started one myself and printed it on the school copier. After about a year of that, I got good at it, attracted some major interviews with Pete Townshend and Paul Weller and others, and because I was so young, it got a lot of attention."
A veteran music writer by 19, Fletcher launched his second zine, Jamming, to honor The Jam. But he was smitten by the newly formed Smiths and twice placed them on the cover. The love affair grew when he hosted a weekly TV show on which the group performed and Morrissey gave the first of his trademark audacious interviews. Fletcher saw The Smiths in concert five times before they imploded.
Just as Jamming expired from cash flow problems, the writer landed his first book deal. Never Stop was a 1987 biography of Echo and the Bunnymen, a Liverpool quartet whose songs combined surreal nursery rhyme lyrics and Doors-like psychedelic music. "I approached the group, they said yes, I wrote it, and it was published the next year," Fletcher said. "It's never been that easy since!"
Biographies of college rock darlings R.E.M. and Keith Moon, divine madman of The Who, followed. In the late `80s, Fletcher relocated to New York City to explore romantic notions of living on the edge. "I went through that classic period every writer goes through when they move there, reading Ginsberg and Bukowski and the like and figuring myself as some great postpunk beat poet/novelist."
Despite the bohemian excesses, Fletcher was energized by the laissez-faire rhythm of the Lower East Side. "I found people encouraged and embraced creativity, and it was partly why I was so determined to live there." He soon added DJ and club promoter to his credits. (Those days of extremes are recalled in his 2003 novel Hedonism.)
Immersed in the music scene on both sides of the Atlantic, Fletcher had the bona fides to deconstruct the tale of The Smiths. But, he insists, he also possessed the needed objectivity. "The Smiths wrote songs that saved a lot of people's lives. I was just far enough along that I was able to be a fan without needing to fall on Morrissey's every word and worship every single lick that Johnny Marr did. And so I do think I have that balance."