click to enlarge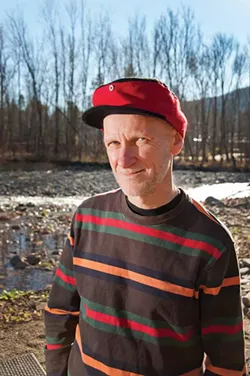 The Beatles. The Rolling Stones. The Who. The Clash. The Smiths.
If the final name in this pantheon of British supergroups is unfamiliar, veteran music journalist Tony Fletcher will change that. In his new book, A Light that Never Goes Out: The Enduring Saga of the Smiths (Crown Archetype, 2012), Fletcher, 48, makes the argument—persuasively and eloquently, over 600-plus pages—that the Manchester, England, quartet was the greatest band of the 1980s. In the space of five years, The Smiths recorded four bold, plaintive studio albums that scorned England's ruling institutions, toured sporadically, and commanded headlines. And suddenly, bitterly, they split up.
"The Smiths in the UK have reached a point in rock's rich tapestry [where] they are considered rock gods," Fletcher says over a vegan breakfast at Oriole9 in Woodstock. "In America, it's still more of a cult, and that's really fun and exciting."
Slight but wiry, a swimmer and triathlete, the author brims with energy. (He credits The Smiths' 1985 LP Meat Is Murder for his plant-based diet.) His words spill out in a torrent. This morning, Fletcher is especially amped up, having seen former Smiths frontman Morrissey in concert last night in Albany.
In recounting the career of The Smiths, Fletcher's book strikes a balance between the hyperbole of a fan and the insight of a longtime music journalist. "[They] expressed the hopes—and just as relevantly, the fears—of a generation unmatched by any other band of their era," Fletcher writes in A Light, and they attained this fame with an arsenal of "sexual ambiguity, political panache, collective confidence, and, especially, savage humor."
What makes The Smiths story especially compelling is its brevity. "I think we are all in love with the story of a group that broke up prematurely," Fletcher says. In fact, the hasty end burnished their legend. "This band broke up before making bad records, and very few bands have ever done that."
An English expatriate living in Mount Tremper, Fletcher spent three years researching and writing the book, which incorporates more than 50 interviews and extensive original research. Released in September in the United Kingdom and this month stateside, A Light that Never Goes Out is—and will remain—the defining Smiths biography.
Fletcher's music writing career began in Yorkshire, England, in 1977. Punk was scaring the horses and fans were making zines to honor their favorite groups. The 14-year-old schoolboy was caught up in the DIY ethos of the era. "It looked like fun, so I started one myself and printed it on the school copier. After about a year of that, I got good at it, attracted some major interviews with Pete Townshend and Paul Weller and others, and because I was so young, it got a lot of attention."
A veteran music writer by 19, Fletcher launched his second zine, Jamming, to honor The Jam. But he was smitten by the newly formed Smiths and twice placed them on the cover. The love affair grew when he hosted a weekly TV show on which the group performed and Morrissey gave the first of his trademark audacious interviews. Fletcher saw The Smiths in concert five times before they imploded.
Just as Jamming expired from cash flow problems, the writer landed his first book deal. Never Stop was a 1987 biography of Echo and the Bunnymen, a Liverpool quartet whose songs combined surreal nursery rhyme lyrics and Doors-like psychedelic music. "I approached the group, they said yes, I wrote it, and it was published the next year," Fletcher said. "It's never been that easy since!"
Biographies of college rock darlings R.E.M. and Keith Moon, divine madman of The Who, followed. In the late `80s, Fletcher relocated to New York City to explore romantic notions of living on the edge. "I went through that classic period every writer goes through when they move there, reading Ginsberg and Bukowski and the like and figuring myself as some great postpunk beat poet/novelist."
Despite the bohemian excesses, Fletcher was energized by the laissez-faire rhythm of the Lower East Side. "I found people encouraged and embraced creativity, and it was partly why I was so determined to live there." He soon added DJ and club promoter to his credits. (Those days of extremes are recalled in his 2003 novel Hedonism.)
Immersed in the music scene on both sides of the Atlantic, Fletcher had the bona fides to deconstruct the tale of The Smiths. But, he insists, he also possessed the needed objectivity. "The Smiths wrote songs that saved a lot of people's lives. I was just far enough along that I was able to be a fan without needing to fall on Morrissey's every word and worship every single lick that Johnny Marr did. And so I do think I have that balance."
Aside from critical analyses and academic studies, the sole Smiths biography until now was Johnny Rogan's 1992 Morrissey & Marr: The Severed Alliance (updated and re-released in October). Fletcher admired it, but felt there was "another story to be told"—a sociocultural history of Manchester and how it birthed a dynamic musical scene. (Buzzcocks, A Certain Ratio, The Fall, Joy Division and its successor New Order, were all Mancunians.)
He began the project by reaching out to the four ex-Smiths, mostly incommunicado due to a court dispute involving song royalties. Fletcher was unsurprised when Morrissey refused. "Divas don't give interviews lightly; they do not allow someone else to control their story." Despite an acquaintanceship with Fletcher, drummer Mike Joyce initially declined. By the time he reconsidered, the book was completed. Only bassist Andy Rourke and lead guitarist and Smiths co-founder Johnny Marr agreed to participate.
Marr reminisced for 18 hours over two days, sitting with Fletcher in Manchester cafes and other public places, prompting a rash of fan sightings over Twitter. (Marr told the author in a subsequent e-mail that he found the interviews "therapeutic.")
As he did in his magisterial All Hopped Up and Ready to Go, a history of New York City music from 1927 to 1977, Fletcher again plays the keen cultural anthropologist, weighing the political, educational, pharmaceutical, religious, and even sartorial aspects of Manchester in decline and how those forces shaped Morrissey and Marr as artists. (His account includes a pointed disdain for the decaying Manchester school system. This stems, he admits, from his own role as a combative reformer on the Onteora school board.)
Fletcher conjures a lost world in muscular prose. We watch Morrissey and Marr prematurely strike rock star poses in forgotten start-up bands before meeting in May, 1982. (By October, they were on stage together.) We savor the magic of early recording sessions. We sit front row at Smiths concerts that recall the days of Beatlemania. We witness fans of both sexes clambering onstage to embrace Morrissey, the self-declared celibate whose homoerotic lyrics and album covers suggested otherwise.
Fletcher deconstructs Smiths songs with the finesse of an English professor, explaining the melody lines with the exactitude of a musicologist and the brio of a musician. (He plays keyboards with the part-time band Catskill 45s, alongside fellow Valley rocker Robert Burke Warren.)
While lauding The Smiths with relentless superlatives, Fletcher doesn't flinch from citing the reasons for their demise: Morrissey's temper tantrums, recurring lapses in band members' judgment, excessive drug use, and zero business acumen. They hired and fired managers with impunity, seemingly bent on self-sabotage.
No fact is too arcane for Fletcher. We learn that Marr's earlier band played Folk Mass at the local church in exchange for rehearsal hall time and Morrissey applied as singer for a new band that would become The Clash. Some details, however, will delight only obsessive fans: Fletcher explains that indie label Rough Trade ferried the band in a "rented Mercedes diesel undertaker's limousine (that needed a screwdriver to start the engine)." Completists will cheer the 23 pages of footnotes.
Fletcher expected massive cutting when he delivered his doorstop of a manuscript. However, this was his only book "where editors asked for more information."
Throughout the tale, Fletcher's narrative powers are formidable, as in this lyrical description of the lead singer: "Morrissey, his quiff reaching almost as high as Johnny Marr's bowl cut hung low, had adopted the full idol persona, accentuating every one of his personal traits: the one-legged pirouette, the bouquet-as-weapon, and the shirt unbuttoned to the waist, revealing a torso and abdomen remarkable only for its everyday Anglo-Irish scrawniness."
The book ends when the group does. Fletcher defends the truncated timeline. "I actually didn't feel the need to go and spend another 200 pages, after doing 600 pages, talking about the court cases and the solo careers and so on. I didn't really want to poison the story any more than it's been poisoned."
An inveterate multitasker, Fletcher is updating his 2003 R.E.M. biography while writing a memoir about his days on the 1970s London music scene. Boy About Town arrives next summer.
"Like anyone, I complain about being typecast, in my case as a rock biographer, but on a good day, I wake up realizing how lucky I am to be able to make a living out of this. Life could be one hell of a lot worse."
Appearances: 12/8 at 6pm, Oriole9, Woodstock, sponsored by Golden Notebook, reading by Fletcher with Smiths music by Robert Burke Warren and Grasshopper of Mercury Rev. 12/15 at 5pm, The Spotty Dog, Hudson, reading by Fletcher with Smiths music by Terry McCann and Stephen Bluhm.