click to enlarge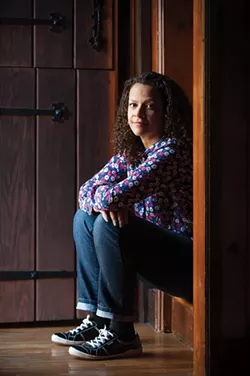 Alison Stewart looks up from her smartphone, laughing. Amazon.com just e-mailed her a "personalized recommendation" for her own book, First Class: The Legacy of Dunbar, America's First Black Public High School (Lawrence Hill Books, 2013). Though the suggestion was clearly based on research books she'd ordered, the online retailer wasn't wrong about Stewart's enthusiasm for First Class. "I'll talk about this book till people move away from me at parties," she says with a grin.
It's hard to imagine anyone shunning her at a party. An award-winning broadcast journalist with credits ranging from MTV to PBS, Stewart radiates an ebullient, intelligent warmth that draws people closer; that's how you get a good interview from Bill Clinton, Elizabeth Warren, and Bono, among many others.
Book-tour travels have kept Stewart from her beloved Woodstock retreat for several weeks running, so she picks a café near the Chelsea apartment she shares with her husband, Rachel Maddow producer Bill Wolff, and their five-year-old son. She's carved an hour and a half out of a busy day, and she's there on the dot, dressed in New Yorker top-to-ankle-boot black, with silver hoop earrings and moss-green nail polish. Her dense curls tumble over her shoulders, a look that once miffed her employers at buttoned-down CBS News.
Stewart just returned from Washington, DC, where she spoke at three different schools, including her book's subject, Dunbar High School. Founded during Reconstruction—an era whose one-step-forward, two-steps-back policy shifts remind Stewart of recent assaults on voting rights—the nation's first black public high school broke barrier after barrier before hitting the skids in the wake of No Child Left Behind. How did Dunbar achieve such remarkable heights, Stewart asks, and what happened to it—and to public education—in recent decades?
First Class begins on a nostalgic high note, as two older alumni watch Barack Obama's inauguration, sharing memories of the exemplary school they'd attended in the segregated 1940s. They are Alison Stewart's parents.
Joe Stewart, Harvard MBA and inveterate breaker of glass ceilings, died shortly afterward—but not before giving his daughter several pithy interviews ("Getting me to study was like putting cooked spaghetti through a keyhole"). Carol Graham Stewart, a graduate of Sarah Lawrence and a dedicated teacher, also died before the book was completed; while cleaning out her house, Stewart found dozens of handwritten to-do lists including "Ask Alison about Dunbar."
Stewart followed their footsteps as a high academic achiever, graduating from Brown University in 1988. She immediately landed a job at MTV News: "I was the PA taking paper jams out of the Xerox machine and calling car services for rock stars." Eventually, she worked her way up to producer and frontline reporter. Though her primary beat was political, she was assigned to cover Woodstock '94 (aka Mudstock) and fell in love with its namesake town. "I started coming up regularly, then did the math and realized I was spending more on rental cars and B&Bs than I'd spend on a mortgage." In 1998, she bought a home of her own on the outskirts of Bearsville.
From MTV, she was recruited by CBS News, which proved an uneasy fit. Alongside pressure to straighten her hair and wear suits ("Who did they think they were getting?" she asks), her stories got smaller. "For the first few months, they'd only give me stories about children and animals. I'm thinking, 'Hey, I just covered a presidential election!'"
Stewart moved to ABC, "where my co-anchor was a guy called Anderson Cooper," winning an Emmy as part of its 9/11 coverage team.
Around 2003, she started to interview prominent Dunbar alumni, such as Edward Brooke `36, first African-American senator, and US Naval Academy groundbreaker Wesley A. Brown `44. "I realized people of the older generation were starting to go," she explains. At first she envisioned a documentary film, and began writing grants, "at which I failed miserably. I remember thinking, 'If someone had written a book about Dunbar, I bet I'd get that grant.' Ding!"
Despite Stewart's journalism credentials, it wasn't an easy sale. Ten publishers turned down her book proposal before an editor (and former teacher) acquired it for Chicago's Lawrence Hill Books. She was especially haunted by a rejection letter that said it sounded more like a long magazine article than a book. "I thought, what if that's true?"
But she kept her eyes on the prize, using Dunbar's 140-year history "as a lens to look at civil rights, educational history, class, race, Washington, DC—there are so many layers." She holed up in the libraries of Harvard and Howard University, amassing a roomful of research in stacked bankers' boxes. She also visited the Ohio birthplace of school namesake Paul Laurence Dunbar—an elevator operator who became America's first widely published black poet—and found primary sources at Dunbar reunions.