About 20 minutes from Woodstock, Phoenicia and the adjacent hamlet of Mt. Tremper are whimsical and movie-set quaint, with a sense of time suspended. It's impossible to walk or drive anywhere here without hitting stunning Esopus Creek and mountain views. It's rugged all right, with the scent of campfires in the air, the romantic whistles of real trains, coyotes howling at night, and if you forget to lock your door, you might come back from a walk to see a black bear grazing through your fridge. You can also find cappuccinos and cool vintage clothing stores, and one of the area's hottest art scenes plus more year-round sports than you can shake a ski pole at, from tubing down the Esopus to fishing, hiking, biking, and motorcycling.
The tight community has a global conscience; the innate charms of the area, along with the social networking of the proud residents—reaching out to friends around the world—is how Phoenicia—(technically a hamlet of Shandaken)—with only 400 full-time residents, was able to merit sixth place out of potentially thousands, in
Budget Travel
magazine's online poll of "America's Coolest Small Towns." Phoenicia will be among the top 10 towns featured in the mag's September issue.
Where to Shop
Main Street, Phoenicia is the place!
For such a diverse range of items, you feel an instant sense of harmony and integration at Tender Land Home. There's an effortless quality to owner Dave Pillard's Zen-meets-rustic sense of presentation, and each item beckons with its own tactile siren call—from delicate hand-crafted and locally inspired ceramic pieces, to regional picture books, summer silk scarves, and wry, just-shy-of-whimsical items.
You'll find one-of-a-kind vintage items and fine tailoring and upholstery at Threads of Time and flip your pageboy at the vintage intensity of the Mystery Shop, the baby of rock `n' roll photographer and illustrator Laura Levine. She also hosts beautiful little free porch concerts throughout the summer, featuring artists like Tommy Ramone and Ambrosia Parsley.
click to enlarge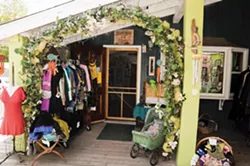 Reading matters! Find good vacay reads at the Nest Egg, an old-fashioned country store where you can buy moccasins and cedarwood chests, slingshots, and penny candy. ("Try the walnut-chocolate handmade fudge, girls, and you'll never need a boyfriend again," one customer recently commented.) This place smells like your childhood should have.
For serious schmoozers, pull up a vintage comic or barely used book and gab as long as you like at the Bohemian-flavored 60 Main Street, which offers books and silk scarves, and clothing designed by the owner, as well as jewelry and togs by hot local designers. (The locally designed Karina dresses are affordable, make every body type look chic, and are totally versatile: Michelle Obama owns two.)
Three charmingly frozen-in-time spots are the Phoenicia Pharmacy ('40s-era music, sun-faded cards and old-timey items); Morne's Imports (every bit of gear you need for your sports addiction, hunting, fishing, and camping, as well as plumbing, Sunday papers, and bus tickets), and Debra-Jo's Unisex hairstyling—and the Ice Cream Station, my favorite soft ice cream in the universe.
What to Eat
Try the eggplant parm at Tiso's in Mt. Tremper, with Sinatra playing and homemade good Italian food. Expect sophisticated dinners and a great bar at Ricciardella's on Main Street in Phoenicia. There's a nice grilled cheese and tomato sandwich and a relaxed atmosphere waiting for you at Russ' Country Kitchen at Phoenicia Plaza on Route 28.
Brio's Pizzeria and Restaurant and the adjacent Sportsman's Alamo Cantina Tex-Mex Bar & Grill both have outdoor seating and are two of the big draws (besides the gorgeous and curvy mountain rides) to hordes of weekend bikers. Mama's Boy Café & Espresso Bar is the new kid on the block and is superrelaxed and invitingly urbane without trying. Mama's Boy offers Wi-Fi, an outdoor deck, cappuccinos, baked goods, ice cream, and a selection of fare for breakfast, light lunch or dinner.

Spirit
Zen Mountain Monastery
founded by John Daido Loori, Roshi, and is one of the most respected Zen monasteries in the West. They provide lay practice, as well as environmental studies, full-time residencies, and retreats in intensive Zen training to Aikido, Zen visual arts, and healing workshops. Sunday morning sessions are open to everyone.
Operated by Tibet House, and visited by His Holiness the Dalai Lama,
Menla Mountain Retreat
, a center for health and happiness, with the Mahasuka spa, is situated in Woodland Valley, on one of Phoencia's prettiest roads. It offers a number of uplifting programs and workshops, as well as miles of hiking and swimming. Richard Freeman, Robert Thurman, and John Campbell will present "Buddha & the Yogis" June 6-12.
Entertainment & the Arts
Events you want to plan around include The Shandaken Art Studio Tour, featuring more than 40 studios, gala openings, and special exhibitions in and around Phoenicia (July 16-17); The annual Rotary Rubber Duck Race (usually in August); and the
Festival of the Voice
, with everything from opera in the park to gospel and world music. The festival opens the evening of Friday, August 13, running through Sunday the 15th. This year's main attraction is Elizabeth Futral, one of the world's leading lyric, coloratura sopranos.
You can watch real movies—like Nosferatu, or Woody Allen faves—and live plays and musicals ("Into the Woods" is now in production for a June run) at the town's charming theater, the
Shandaken Theatrical Society
, housed in a building that is seriously circa 1887.
Mount Tremper Arts offers artist residencies and top-quality solo and ensemble dance and music performances, as well as visual art exhibitions. Their summer arts festival runs July 9 through August 21, featuring performances by Tere O'Connor, Melinda Ring, Brian Rogers, the International Contemporary Ensemble, and Young Jean Lee, as well as visual artists.
The pioneers in the ever-evolving Phoenicia/Mt. Tremper arts scene were members of an artists' cooperative who launched
Arts Upstairs
. Their monthly shows pack six rooms with local art and the art openings are big local social events, often coinciding with other openings around town, for an art block party atmosphere.
Every aspect of Wendy Drolma's masks—featured in her studio/store on the boardwalk—are elegantly and wickedly handcrafted. If you're going to a Venetian ball or just want something dark and gorgeous to commemorate your Phoenicia experience—no one leaves this place without being transformed—make it a stop.
If you want to go skin-deep, hit Skinflower Cosmic Arts, with resident tattoo artist Sunday Dawne-Marie. A delicate raven and a girl with feet of tree roots, a vivid samurai fighting lurid deities—these are just some of Dawne-Marie's original designs that make her place pop.
Ride with the rushing tide when you get geared up for a tubing adventure, guaranteed to cool you off even in an epic heat wave. There are several places in town; Town Tinker Tube Rental offers a kayaking package and group discounts on the whole exhilarating tubing experience, outfitting you up in everything from wetsuits to tubes. If you'd rather hop a train, check out Phoenicia's rich history at the
Empire State Railway Museum
and get on board for a leisurely ride through the Catskills.
Nature & Hikes
Poke around for your favorite fishing hole (we won't tell) and for hikers, there's a big hike (Mt. Tremper Trailhead on Old Plank Road) and a satisying 20-minute hike tucked behind the post office at the far end of the park, which will reward you with breathtaking views without leaving you breathless.
If you're staying a bit and love animals, perhaps you can spend some time feeding a baby squirrel or wild bird, rescued by the efforts of one lovely woman on a quiet street, animal rehabber Joanne Rowley. Call to contribute, as she has anywhere from five to 40 critters surviving on donations and her 24/7 loving attention. (845) 688-2038.
Where to Stay
If roughing it in your tent or parking your RV under a roof of trees with crackling campfires sounds good, there's a few options, including Black Bear Campground and RV Park or Uncle Pete's.
For those who lust for luxury, choose the Emerson Resort and Spa—last year's host for some of the hottest, star-studded Woodstock Film Festival parties. Forbes rated the Indian-influenced spa four stars. Their Country Store is an upscale array of artsy shops. Check out the World's Largest Kaleidoscope, as well as the Kaleidostore. With two restaurants, a café, several spacious lounges, and spacious path-lined grounds facing the creek, you probably won't have to leave.
The Phoenicia Belle is a Victorian B&B that's cheerful, cozy, and super convenient: You can watch all the Main Street action from the front porch, or roll out of bed and head straight out into the day. The Cobblestone Motel in Phoenicia has a pool; Catskill Rose and La Duchess Anne are both in Mt. Tremper and have dining on the premises.
You remember the line from the B-52s' "Love Shack"—"A little ol' place where we can get together." It perfectly describes the whole quirky magic of Kate's
Lazy Meadow Motel
, right on Route 28. The place is designed, owned, and operated by B-52s frontwoman Kate Pierson herself and has rustic cabins and vintage Airstream trailers decorated with authentic '50s-era furnishings and memorabilia.
Across the street, Hanover Farms on Route 28, open 24/7, is possibly the only place in the Hudson Valley where you can satisfy a 3 am craving for anything from local smoked trout to baked goodies and tons of fresh produce.
RESOURCES
Lazymeadow.com
Phoeniciavoicefest.com
Stsplayhouse.com
Artsupstairs.com
Esrm.com
Mro.org/zmm
Menlamountain.org
Trails.com