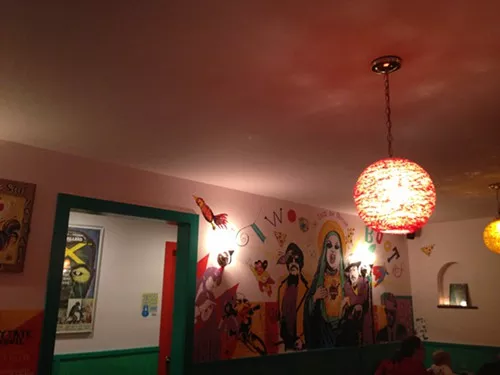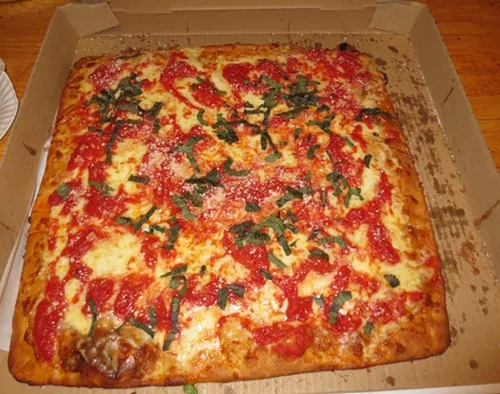 I think the last time I had Two Boots Pizza was in Greenwich Village in the 1990s. I am happy to report that Two Boots Pizza in the Hudson Valley is just as good, if not better than I remembered it tasting back in my NYC days. The restaurant opened in Red Hook in May 2012, and is right across from Bard College on Route 9G. When I got there around 6:30pm it was pretty crowded with happy diners. Most of the diners looked like college kids, but there were a couple family groups too. It's an upbeat place, and the staff were very friendly and attentive to me and the other lady picking up Take-Out.
I loved the funky little lounge near the main area and mural on the walls. We decided to get Take Out since we were in a lazy mood, and it was 25 F outside. We ordered a Grandma Bess (a huge square pizza with organic plum tomatoes, garlic, fresh basil, and parmigiano on a thin Sicilian crust), 2 slices of pepperoni, and a ceasar salad with chicken. It smelled so good on my lap in the car! By the time we got home we were all drooling, and we devoured almost all of it in about 10 minutes.
The Grandma Bess was heavy on the tomatoes, but really delicious. I didn't feel overly bloated like I do when I eat regular pizza. The chicken ceasar was creamy and good. I can't wait to go back and try another pizza. I kind of regretted not trying the St. Tula Pizza, a creation made from Fleischer's sausage, garlic, peppers, sweet red pepper pesto, ricotta, and mozzarella, which is only available at their Bard location. I will definitely be back! I seem to crave pizza more often during the winter, and I'm hoping for a long snowy season. Two Boots Pizza, 4064 Route 9G, Red Hook, NY. (845) 758-0010
Find more Hudson Valley Good Stuff restaurant recommendations by Vanessa Ahern at HudsonValleyGoodStuff.com: Where to Eat, Play & Recharge Your Spirit in the Hudson Valley.