It boggles the mind that any thinking human being would, in exchange for money, actually consider accepting the implementation of an industrial process that carries even the slightest and most remote possibility of turning their drinking water into flammable poison and damaging other parts of the environment they call home. But at the moment there are still many people who seem willing to tune out the risk of such potential calamities in exchange for promises of big checks and the conscience-easing artifice of multinational conglomerates. Thankfully, though, lately such tainted talk has been having less of an effect in New York State, as the numbers of citizens opposed to lifting the ban on hydraulic fracturing, also known as hydrofracking or fracking, have continued to rise with rapidity. Much of the increase is due to awareness-raising events like the all-star March 10 concert at the Bearsville Theater organized by John Medeski of Medeski, Martin & Wood, "We Shall Not Be Moved: An Evening of Spirituals to Benefit Frack Action."
"Everyone involved [in the concert] agrees that fracking should be banned," says the keyboardist, who will perform at the benefit along with such prominent area artists as Natalie Merchant, Jack DeJohnette, Gail Ann Dorsey, Don Byron, Amy Helm, Tracy Bonham, Jerry Marotta, Marco Benevento, Larry Grenadier, Elizabeth Mitchell and Dan Littleton, Rachel Yamagata, Simi Stone, Bethany Yarrow, Jeremy Bernstein, and a quickly growing list of others. "We've seen what fracking's done in Pennsylvania. It didn't work there, and it can't work in New York State. Besides being so dangerous, it's not a renewable resource. Fossil fuel will run out at some point."
click to enlarge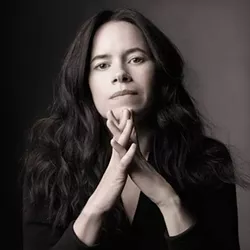 Merchant, especially, has been a vocal opponent of hydrofracking, headlining a May 2012 antifracking Albany concert that was chronicled in the film Dear Governor Cuomo. How does Medeski, who appeared alongside Merchant and many others at the Albany event, respond to claims that the construction of hydraulic fracturing facilities will bring jobs to employment-starved rural areas? "That's not true," he maintains. "These fuel companies have mainly been bringing in more experienced people to work on the rigs from outside of those communities—not hiring and training the people who already live there. It is true that the local motels and diners could make some money from these visiting professional rig workers, but the rest of the populations of those small towns won't see new jobs. And the sheer number of heavy trucks used to service and transport the toxic wastewater from the fracking sites not only adds to the pollution from the rigs themselves, they destroy the roads. We've seen land values in fracking areas in Ohio and Pennsylvania drop 75 percent."
Spirituals will provide the musical theme for the Bearsville program, although what, exactly, that promises will be a surprise. Even for Medeski, who was lining up rehearsals at the time of this writing. "I just kind of put it out there [to the other artists] as, 'Whatever a spiritual means to you," he says. "There's definitely going to be a lot of interesting collaborations. It's about local musicians coming together to raise money and inspire people."
The concert, which will also feature a silent auction, will take place at the Bearsville Theater in Bearsville on March 10 at 6pm. Tickets are $25, $35, $45, and $65. (845) 679-4406; Bearsvilletheater.com.