click to enlarge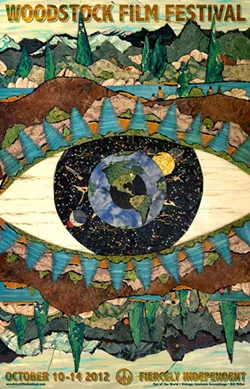 For five days this October, amidst presidential debates and door-to-door canvassing, the Woodstock Film Festival (WFF) will offer fun with a conscience: nearly 130 films plus concerts, panels, and receptions throughout the region. For a few days, the local flower child gets to play the hip cineaste, rubbing shoulders on Tinker Street with bold-faced names from American indie cinema. Since its debut in 2000, WFF has been dedicated to screening film projects that shine a harsh light on injustices of all stripes, while celebrating the unruly joys of the counterculture—with a healthy dose of music to round out the mix. Many of the movies will deal with the selfsame issues facing us as we head to the polls in November: social, political, and environmental conflicts, and finding the rare people who can offer lasting solutions rather than empty rhetoric.
Allow me to strike a dire note: As multinational companies subsume a larger market share of new media, certain films that expose environmental, fiscal and ethical violations may find themselves without a mainstream venue, banished from megaplex screens, corporate-owned network television, certain websites, and even your own iPhone. Hence, a sobering reminder why independent festivals like WFF are often the only forum for certain films that corporate America, in its infinite wisdom as a legal citizen, prefers you not see. Be clear: In many cases, this year's WFF films will never be seen in a theater near you. This festival is your only chance.
Chronogram
celebrates the 2012 Woodstock Film Festival with its far-reaching preview section. At the center of this preview are the synopses of 36 films, complemented by interviews with actors and directors.
The film reviews herein, penned by your tireless
Chronogram
film critic, are unabashedly opinionated. But they are meant to evoke curiosity and debate rather than dissuade someone from viewing a film. WFF offerings are always a fitful mix of ham-fisted debuts by first-time directors, eccentric projects best viewed at midnight screenings, and the occasional work of brilliance that will expand your mind while healing the world. (I will now contradict myself: This year, there is a higher number of superior documentary and narrative films on the WFF schedule; the lowered cost of digital video cameras has democratized the creative process among filmmakers across the globe.)
For specific WFF 2012 show times, special events, late-breaking information, and ticket sales: (845) 810-0131;
Woodstockfilmfestival.com
.
The Best of WWF 2012: One Critic's (Fiercely Independent) Opinion
In reviewing films for WFF 2012, I greet every screener that I preview with this merciless slate of questions: Will this movie have a life beyond the admittedly cosseted realm of the indie film festival? Is it a sleeper—or a non-starter? If it had featured top stars rather than a handful of exuberant unknowns, would it be in commercial theaters? Will it have a new life on DVD or on a paysite? Or will it be destined for obscurity?
In the case of certain narrative film vanity projects, an early death is no cause for weeping. But when the project is a fearless documentary that speaks truth to power, it benefits us all to keep the project in front of as many eyes as possible. Rest assured, there will be unseen individuals—corporations being the "new American citizens"—working hard to ensure that it disappears for good.
While I
previewed a mere 36 films
out of nearly 130 on the 2012 Woodstock Film Festival schedule, I commend these two as being superlative in their respective categories of narrative and documentary projects.
To learn whether the festival judges agree with me, be sure to attend the WFF Awards Ceremony, scheduled for Saturday, October 13 at Backstage Productions on Wall Street in Kingston. (For details, visit the
WFF website
). For a career equally highlighted by thought-provoking films and an active dedication to progressive causes, director Jonathan Demme (
Philadelphia
,
Melvin and Howard
) will be given the Maverick Award at this year's ceremony.
Best Narrative Film
:
First Winter
Director: Benjamin Dickinson
The best of narrative films thrusts us into a special world and then shakes up our preconceived notions about people, society, and our own value system.
First Winter
, which examines how a group of twenty-somethings faces the apocalypse, does all of these things powerfully. Its cumulative effect, which is to fill us with a sense of dread, is handily accomplished by a cast of amateurs and professionals whose understated performances make every moment seem real and raw.
www.firstwintermovie.com
Runner-ups:
Electrick Children
(Dir. Rebecca Thomas);
Sparrows Dance
(Dir. Noah Buschel)
Best Documentary Film:
Words of Witness
Director: Mai Iskander
The best of documentary films demonstrates a sense of bravery in depicting a truth that has heretofore been obscured. One slowly understands that the hero is not only the person in the viewfinder, but the intrepid director following the action from behind the camera. Mai Iskander braved danger every step of the way in following Egyptian reporter Heba Afify's equally brave coverage of her country in turmoil, as revolution ignited. Together, the director, subject, and all involved have created a humbling and inspiring record of a newly born democracy struggling to its unsteady feet.
www.wordsofwitness.com
Runners-up:
Chasing Ice
(Dir. Jeff Orlowski);
Shepard and Dark
(Dir. Treva Wurmfeld)