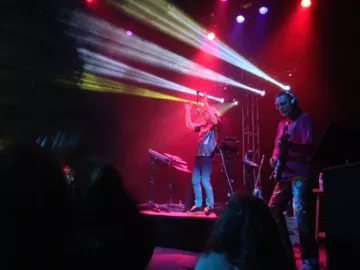 Todd Rungren performs at Bearsville Theater on May 5
Todd Rundgren kicked off his new "Official State Visit" tour in the Hudson Valley at Bearsville Theater on Sunday, May 5, to a sold-out revved up crowd. I have to confess, my husband Tom is a fan of his, but I'm not that familiar with his music. I do remember his hits "Hello It's Me" and "Why Can't We Be Friends", so I was looking forward to the concert. The concert started around 8:30pm, and there were a few serious groupies in the front row. (The theater was set up for standing room only so the chairs were removed.)
I overheard two strangers negotiating camera rights. One woman asked another fan standing in the 2nd row, if she could squeeze in during the concert so she could get a few good photos. "Sure, just give me 10 or 15 minutes to get my Todd fix, and I'll let you in," she told her. (I love Woodstock! Strangers helping strangers.) Tom and I stood close to the stage, a few rows in. Two ladies in back of me asked me to take their photo with their iPhone.
Walking through fog smoke, laser lights, Todd Rundgren appeared dressed like a mad space hipster alien, along with his guitarist and drummer. He opened with a strong performance of his new song "Imagination" from his new album State which the crowd went crazy for.
The music was trippy techno, and kind of reminded me a bit of Ziggy Stardust. Rundgren has definitely embraced this type of computer-generated music, but at times watching him go back and forth between his devices distracted me a bit from the music. At one point it looked like he was reading off lyrics from his iPad. (My fanatic husband insists Rundgren was just being theatrical.)
There was very little singer-to-audience small talk during the entire show. (Even if I don't know the singer, I still like to get back stories on how songs were written, what they like about Woodstock, their trip here, bandmate names, etc. Or at least say something like, "This next song is called 'Angry Bird'".)
The only thing Rundgren told the audience was that if we were tired of standing, we could try alternating our feet, or we could lean into someone. Maybe the whole choreography doesn't lend itself to chit-chat, but I would have liked a little schmooze. There were a couple funny audio bloopers too, which made up for the lack of small talk. I did get into his music, and a few of the songs had poignant lyrics. At 10pm, when the concert was winding down, Tom said, "Wait, a minute! I guess he'll sing 'Hello' for the encore." He came out and sang a medley of "Hello" and "Why Can't We Be Friends" and "The Light in Your Eyes" as techno dance track, not the paired down piano version that Tom had hoped for. (Oddly enough though the more I replay the clip, the more I like it, and now I'm convinced that I like the new version better!)
After the concert, the two ladies behind us expressed their disappointment with the encore. "I mean, come on. Couldn't he play that hit song the normal way?" she said to me. Tom agreed, but he told her the stage was probably not set up for that. "Oh, well! That's okay. We'll just listen to his CD in the car on the way home!" she laughed.
It was a fun night though, and as I listen to the music again, I have a desire to listen to the new State CD. It was a great show, and if you love the techno wizardry of Todd Rundgren, you are in for a treat. If you are hoping for something retro, maybe not.
For more Hudson Valley Good Stuff, visit Vanessa Geneva Ahern's blog, HudsonValleyGoodStuff.com.