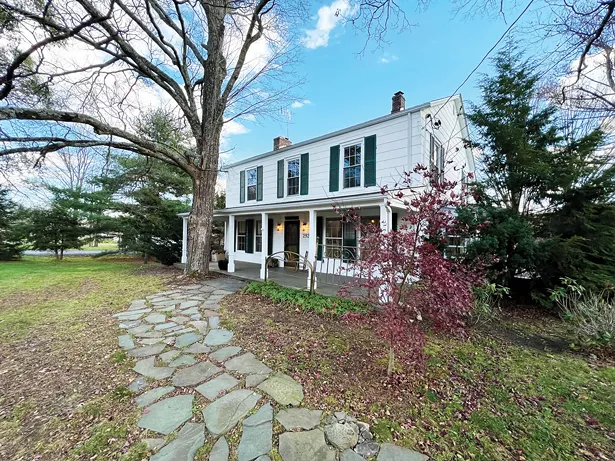 Saugerties gets plenty of love for its cultural attractions—and for good reason. It's hard to deny the romantic appeal of Opus 40, Harvey Fite's iconic, six-acre bluestone sculpture park, or the historic Saugerties Lighthouse perched on the edge of the Hudson River. But the quiet, artsy town nestled in the foothills of the Catskill Mountains where the mighty Esopus Creek flows into the Hudson River has even more to offer the lucky residents who call it home.
"Saugerties really has it all," says Laura Foster, a Saugerties resident and licensed real estate agent for Halter Associates Realty, a top independent brokerage with offices in Kingston and Woodstock. "It's a Hudson River town with a super-walkable village, and it's set against the backdrop of this insanely beautiful mountain range in the Catskills." Foster, who grew up near Poughkeepsie, moved to Saugerties in 2010 and began working in real estate soon after. "Many of my listings have been based in Saugerties," she says. "I just love selling people on this town."
Here, Foster shares four of her favorite things about living in Saugerties.
The Best of the Hudson River and Catskill Mountains
"Something a lot of people don't realize unless they're very familiar with their geography is how close Saugerties is to both the Hudson River and the Catskills," Foster says. "You have all the secret swimming holes and great hiking trails, and you can go down to the river or have lunch in the village." She also points out that as an exit on the NY Thruway, Saugerties also has the convenience of getting in and out of town in just a few minutes—a boon for visiting friends and family or jobs that require a commute north or south.
A Walkable Village with Everything You Need
To Foster, who lived in the heart of the village for many years, one of its best features is its walkability. "You can park your car and walk around to get everything you need," she says. "That's very rare among Hudson River towns." Main and Partition streets are lined with shops that offer a little bit of something for everyone. Their offerings include restaurants, cafes, and bars such as Love Bites Cafe, Miss Lucy's Kitchen, Ohana Cafe, Pig Bar, Partition Bar, and newcomer Salt & Fire, two bookstores,
hardware store P.C. Smith & Son,
natural foods grocer Mother Earth's Storehouse,
and a sprinkling of retail, clothing, and vintage stores.
Community Events All Year-Round
Many people know of the famed Hudson Valley Garlic Festival, a 30-plus year tradition that takes place at Cantine Field every September. But the town has a whole slew of one-of-a-kind events to fill out your social calendar. "There are so many wonderful events going on in Saugerties all the time," Foster says. There's the Sawyer Motors Car Show in July, when over 500 hot rods and classic cars fill Partition and Main streets, HITS-on-the-Hudson equestrian shows throughout the summer, the Mum Festival in October, Holiday in the Village in December, and, new this year, the Snow Moon Festival in February, three days of events to brighten the winter season.
Family-Friendly Activities Aplenty
As if all the community events weren't enough, Foster, who has a toddler, also notes that there are so many programs and activities for kids to enjoy. "I'm learning about all of these wonderful things you can do with small children," she says. "The Saugerties Public Library has been such a great resource. They have play groups, storytime, arts and crafts, and tons of programming for all ages," she says.
Another activity Foster enjoys with her daughter is the Saugerties Farmers' Market, which runs late May through October. The market regularly has live music and a Farm Animal Day in the summer where kids can meet, interact with, and learn about the furry friends living at local Hope Farm. "You get to talk to vendors and build those local connections, which feels great. And when you have a little kid, it's such a wonderful thing to do."