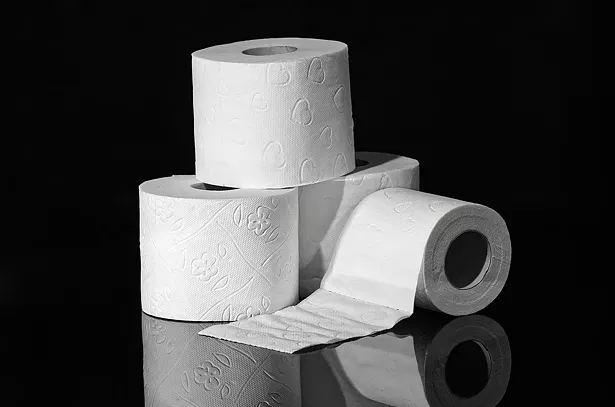 I was barely aware of the ramifications of the recently-announced oncoming pandemic when suddenly there was a stampede for toilet paper.

The local government had just announced that, in order to avoid spreading the virus, we "might" have to stay home for two weeks. The schools would close, yada yada yada. I trotted casually to the supermarket to get some extra cans for the pantry.
Next thing I knew, there were viral videos of people having fist fights in supermarket aisles. Over toilet paper. A woman on a checkout line leaned her body possessively over her cart piled high with toilet paper while another woman yelled at her that she "Only wanted one pack, you greedy bitch!"
And then the "bath tissue" aisles in all the stores were empty.
I still didn't get it.
The first time I saw giant packs of Charmin piled high down the main aisle in Target, I ignored them. Other people stared for a moment as if they couldn't believe it, before diving in to grab one.
But as the projected—and mythical—"two weeks" evolved into four, I got it.
I didn't think I would need that much toilet paper. But after I saw the future, I scored a 20-pack one day at Walmart, and two eight-packs at Hannaford a few days later. It was after that that completely empty shelving became the norm.
I live with my family—me on the top floor in a separate apartment, the five of them (three grandkids) downstairs.
I was pretty well set. But they, with five times as many people, were not set for long. I got a text from their dad: "If you run across any toilet paper, we're down to our last four rolls." He and my daughter were working at home, and only shopping on Wednesday evenings (discount night at Adams). The odds of finding toilet paper in a store at the end of a day were zip. Especially at Adams. Adams had never carried toilet paper.
And there was no "running across."
And now the supermarkets, when they had it, were limiting purchases to one pack per family per day. It staved off the hoarding.
Suddenly a rumor: Sam's Club had toilet paper! I wasn't a member so I arranged with a friend who was, to meet her there. Lo and behold, they still had some at ten the next morning. Gigantic pack of Charmin. But I had to join the Club to be permitted to buy it ("one per member"). Well, I couldn't just walk away. ("Only four rolls left," he'd said.) No doubt the most expensive pack of Charmin ever sold.
Now the virus was in full crawl so I was only shopping at the crack of dawn on Saturday mornings. The stores were pretty empty then, and I could get in and out before the six-foot rule became impossible. If ever an item was going to be available, that was when. But we all had enough now, right?
Third week, Dad texted again. Down to four rolls. They were racing through it.
So that Saturday morning, I carefully planned my route and set out early. And the gods smiled upon me. Thirty-four rolls in Target, eight rolls in Walmart, eight jumbo rolls in Hannaford.
Does this mean that the suppliers are coming back? No more shortages? Remains to be seen. The government is bouncing back and forth between open it all up next week, or keep it closed down for another month.
People are sick and dying all over the world. Who would have imagined that locally the biggest issue would have been toilet paper?
Judith Emilie's writing was recently published in Persimmon Tree, and has been presented in readings around the Hudson Valley.