There are few things that make the memory of your wedding day shine quite like glancing down at your finger to find a ring as one-of-a-kind as the person you married. Whether you're in the market to design a custom engagement ring or wedding bands to match, the experts at Hudson Valley Goldsmith specialize in creating fine jewelry that sparkles with personal pizazz.
"People are always blown away by the fact that we can do pretty much anything. We had one piece last Christmas that featured the Hudson River inset with gems to mark the couple's special places," says Sara Walton, who opened Hudson Valley Goldsmith with her husband, master goldsmith David Walton, in New Paltz in 2013.

David started in the jewelry business at 14 as an apprentice. Right out of college with a degree from SUNY New Paltz's Metals program, he was hired as a diamond setter and fabricator for Tiffany and Co.
At Hudson Valley Goldsmith's workshop in New Paltz and its second location in Beacon, brides and grooms may be surprised to find one of the region's largest selection of loose and set diamonds.

"We travel to Antwerp, Belgium two times a year to hand-select diamonds for our stock and for our customers' orders," Sara says. "It's where 90 percent of the world's diamonds go before they're distributed, so we get first dibs." Selecting diamonds so early in the global trade also allows for a shorter chain of custody, ensuring that the materials they work with are conflict-free.
In contrast to the harried atmosphere of New York City jewelry dealers in the Diamond District, Hudson Valley Goldsmith is known for its relaxed, friendly vibe. "You can come in and have a cup of coffee and go over ideas," Sara says. "We also know how to work with a budget and find the perfect diamond that still fits in your price range."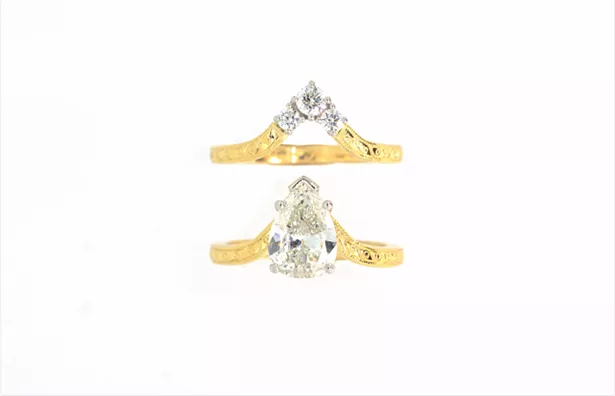 Collaborating with David and his team to create a custom engagement ring or wedding band can take anywhere from two to eight weeks, depending on the item's complexity. On the quicker end of things is the option to build off of one of the custom semi-mount rings that they have available. The ring is ready to go minus the perfect center stone of your choosing.
You can also go all out and work with David or in-house gemologist Jon Porpora to create a totally new design. After an initial meeting to discuss ideas, the team uses a combination of traditional drawings and CAD software to model out all the angles. Then, they hand-carve or 3D-print the ring to scale in wax so you can see the design in person and even try it on.
Hoping to go a little more old-school with your approach? Hudson Valley Goldsmith also specializes in reworking heirloom jewelry into refreshed designs, so you can give Grandma's precious diamond a modern look that blends your beloved's taste into your family story.