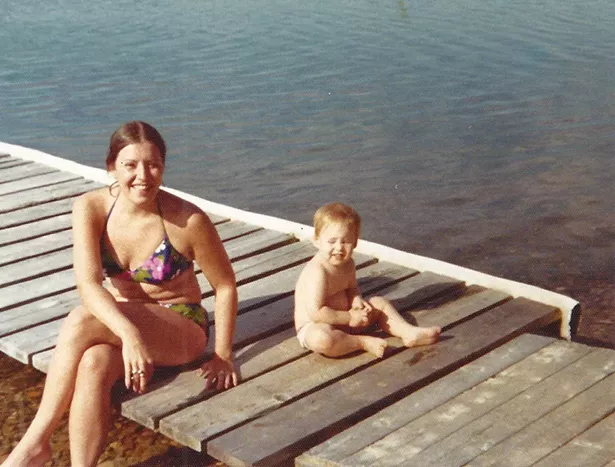 I want to tell you some things about my mother, Alice. And considering that she died on April 30, I can now pretty much say whatever I please about her.
Alice Maslin Junkin was born on January 31, 1946, to George and Alice Junkin, whom everyone knew as Nancy. Alice was the second child of George and Nancy, her brother Bill having been born two years earlier. As a small child, Alice lived like a fairy tale princess in a stone castle near Little Neck Bay in Bayside, Queens. (No lie—the house was a proper stone fortress with tapestries and parapets and crenellated towers.)
Alice's father died when she was six, and shortly thereafter the family moved into more modest quarters a mile away—what is commonly referred to in the family as the ancestral estate. This was the house where Alice would live the majority of her life—she raised her children there, she threw hundreds of parties there, she gardened there, she bronzed on the deck by the pool there, and as was her wish, she died there, surrounded by her children.
Alice attended Sacred Heart grammar school, and she went to high school on the Upper East Side of Manhattan at the Convent of the Sacred Heart, a school better known for its alumna Stefani Joanne Angelina Germanotta, AKA Lady Gaga.
Alice studied at Nazareth College in Rochester, NY, where she would meet her future husband, Kevin Mahoney. Upon graduation, the couple moved to New York City and were married in the fall of 1969. Alice went to work at the Karralla Agency, a public relations and marketing firm, where she served in various roles for 20 years.
After leaving the Karalla Agency, Alice worked as an administrator at Queensboro Community College for nearly a decade before joining the staff of Ben Gurion University at Columbia University in 1999, where she worked as an administrator until her retirement a few years ago. As an admissions officer and a founding staff member at Ben Gurion, she helped hundreds of would-be doctors find placements in medical schools. Her co-workers described her as "unflappable" and "impossible to stress out." This is no surprise, as there's precious little that can unsettle a mother of four—especially if you know my siblings and me.
While all this work was going on, Alice was also raising a family.
On November 5, 1970, Alice gave birth to beautiful baby boy, named Brian. Although there is some dispute about this, it is rumored that he was her favorite. Alice gave birth to three more children—two more boys, Conor and Paddy—and then finally, a daughter, Alicia.
A year and a half ago, Alicia and her husband Ryan gave Alice the most exquisite gift: a granddaughter, Adeline.
Those are some of the facts of my mother's life. They tell you where she was and what she did. But they barely scratch the surface of a life so richly lived. Let me share some important details.
Alice took in strays—both canine and human, but mostly human.
A lot of people who were not direct family members lived in our house over the years. Nieces, nephews, the children of friends, her children's friends; once, an entire family who needed shelter.
As someone who can barely tolerate an overnight guest in my house, my mother's generosity of spirit floors me. Mom never talked about her motives, or preached about Christian charity. She took people in because she saw she could help. And if she could help, she would pitch in as much as possible. That was just her way.
Alice was a New Yawker.
If given the choice, my mother would rather take the subway than pump gas. She enjoyed traveling—she was planning a trip to Malta at the time of her death—but there was really no need for Mom to leave the city—as her children who moved out of the city came to realize.
These were a few of mom's favorite things: Bagels and shmear, and the Sunday Times crossword, Broadway plays (and reserving the right to chide her children when they bought cheap seats), cigarettes, and white wine.
Alice was funny.
A few years ago, I took my mother to see a revival of Stephen Sondheim's musical "Company" on Broadway. Right before the curtain, I got up to powder my nose. While I was gone, a woman sitting next to mom (she turned out to be a tourist from Kansas) said how wonderful it was for a woman to be out on the town with her gay son. (For the record, I identify as heterosexual, despite my love of the musical theater.) When I sat back down, mom whispered in my ear, "She thinks you're gay—play along," and smiled mischievously. And then mom proceeded to pat my knee and proclaim loudly "I'm so proud of my gay son" over and over until the woman's face reddened and she hid in her coat until the play began. "I'm so proud of my gay son."
Alice contained multitudes.
Mom was many things to many people: a devoted friend, a shoulder to cry on, a valued coworker, a wise counselor, a trusted confidante, and a sheltering sky for her children.
And as successful as mom was in her professional life, I've no doubt that she believed her greatest achievement was her children. Alicia the educator. Paddy the engineer. Conor the builder. And me, the writer, who learned his early word tricks at the feet of the master, his first and best editor. We are her legacy.
Last summer, my siblings and I rented a house on Cape Cod—a gift for Mom. None of us had been back in almost 30 years, since we'd vacationed there as a family in the 1980s.
Mom insisted we return to where we used to go, in Brewster, on the bay side of the Cape, where the tide goes out over a mile. It's called the Brewster Flats. It's the widest expanse of tidal flats in the Northern Hemisphere. When the tide's out, it looks like you can walk 18 miles straight across the bay to Provincetown.
The week we spent was idyllic—the weather was great, we ate our weight in lobster rolls, we drank beer on the beach, and played cards on the deck.
One afternoon, mom and I were sitting on the deck, watching the tide go out and Alicia and her husband Ryan and baby Adeline walk across the sand, way out on the Flats. The conversation veered this way and that, and mom landed on a memory of her mother, Nancy, who had been dead for three decades and whom she rarely spoke of. I asked if she thought of Nancy often. "There's not a day that goes by that I don't think of her," she said, very matter-of-factly.
I didn't understand what she meant at the time, but I'm beginning to now.