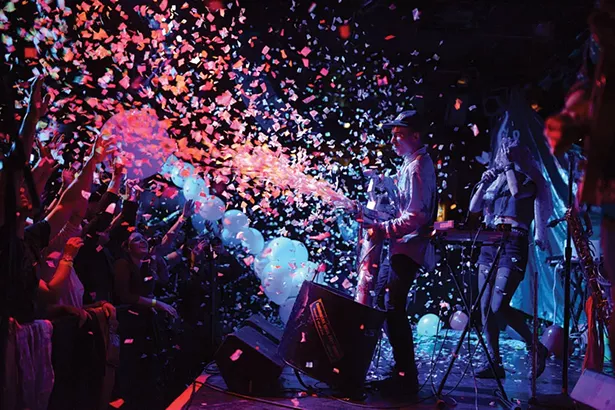 With the violence and volatility of the past few months, many may be eager to lay 2017 to rest. Out with the old, in with the new, as the adage goes. It's time to bootstrap your way into the new year. Luckily, whether you're a deadhead or a blues junkie, comedy lover or Americana aficionado, there is something for you to do this New Year's Eve.
Rubblebucket is as raucous and playful as their name would suggest, fusing Afro-funk, art-pop, and electronica in a sort of mischievous new wave rock that is highly danceable. Timeout New York has claimed that this "whimsically named group promises to bring the heyday of soul into our hipster times." They are joined in the back room theatre at BSP Kingston by prolific, high-profile pianist Marco Benevento. 8pm.
With its catwalk balustrade, the recently renovated
Colony
in Woodstock is always a great place to see a show. Their New Year's Eve Ball will be a brass-tastic event featuring ska band Los Thujones and local afro-funk/reggae maestros The Big Takeover. Brunch will be served promptly at midnight along with a free champagne toast. 8pm. $30-$40.
Larry Campbell and Teresa Williams are a kismet combo with a scorching track record. The Americana all-stars have played with Bob Dylan, Levon Helm, Phil Lesh, Little Feat, and Hot Tuna, but their creative chemistry is at its strongest in their duo. They play New Year's Eve at Daryl's House with special guest Tony Trischka at 9pm. $50-75.
Deadheads, don't despair! There is something for you too this New Year's Eve. The five-piece acoustic outfit Deadgrass will shepherd the crowd at The Falcon on a journey through the discography of Jerry Garcia from his earliest Jug Band days through to The Grateful Dead. The ensemble features Grammy winner C Lanzbom, Clarence Ferrari, Russ Gottlieb, David Richards, and Matt Turk. 8pm.
Roots, rock, reggae—you'll get 'em all before the year is out if you head to Bearsville Theatre. The Dead & Dread-themed evening features renowned cover band Gratefully Yours, Ras T Asheber, DJ Justin Case, and Bianca Boom. Toast midnight with a free glass of champagne plus comp.limentary breakfast! 8pm. $30-$100.
If you're feeling the need to shake off the heebie jeebies of 2017, Ashokan Center is the place to head. They are hosting a weekend-long music and dance camp that will feature lessons, jam sessions, and all kinds of dancing. On New Year's Eve, a 6pm buffet dinner will be followed by a rocking party with four bands, two dance halls, and a caller, featuring Swing, Cajun, and Waltzing, Square, and Contra dancing, followed by late-night Zydeco. New Year's Eve Dinner and Dance: $15-$60; Music & Dance Camp: $275-$485.
Move and groove to Motown jams all night with this Paramount Peekskill show, Shadows of the '60s, the ultimate tribute to the legendary stars of Motown. Complete with exquisite period costumes, choreography, and charismatic performers, this show will transport you to another era as you listen to live renditions of timeless hits by The Four Tops, Temptations, Stevie Wonder, Smokey Robinson, and other greats.10pm. $40-$80.
Slam Allen opens a gateway to another era with his original compositions, which blend blues, soul, and R&B, with a sprinkle of rock 'n' roll. With a rich, full voice and nimble fingers on the guitar, Slam Allen and his band are sure to serve up high energy show. They are joined on stage at the Towne Crier Cafe by local singer/songwriter Willa Vincitore, who is also known for her genre-bending, eclectic tracks, with their blues, soul, rock, funk, and pop influences. $45–$100.
When New Year's Eve falls on a Sunday, the only logical thing to do is have two days of partying, right? This year the Palace Theatre in Albany is selling weekend passes to their back-to-back New Year's celebrations. The Marcus King Band plays their self-described "soul-influenced psychedelic southern rock" on Saturday, December 30, and on Sunday, December 31, Vermont-based improvisational rock band Twiddle tears it up. $42–75.
If you're over the ball drop, it's time to head to Honor's Haven Resort & Spa to experience New Year's the traditional Russian way. This four-day celebration kicks off on December 30 with live music, dinner, champagne, noisemakers, and, we can only assume, vodka. What unfolds over the long weekend is anybody's guess. December 30, 8am, to January 2, 2018, 5pm.
There's nothing like good old-fashioned wintertime fun. Glide into the New Year at Bear Mountain's outdoor ice rink. On New Year's Eve and January 1, skating sessions are every two hours starting at 10am. Admission is $5 for everyone older than four. Skate rentals are an additional $5.
Thanks to Illuminate Goshen, the village is decked in lights for the holiday and will host its third annual New Year's event. Festivities kick off at 7pm with face painting, balloon animals, a magic show, giveaways, live music, and tasty treats. There will be a teenybopper countdown at 9pm and a big kids' ball drop at midnight.
Village of Saugerties Ball Drop
With restaurants on the main strip offering food and drink specials and live entertainment you can ease into the evening's festivities. Streetside, DJ Riley Cornelison will be spinning the soundtrack for the night, along with a guest performance by the high school choir. Boy scouts will serve up hot coffee, cocoa, and doughnuts. Just before midnight, folks will break out their party hats and noisemakers for the big ball drop.