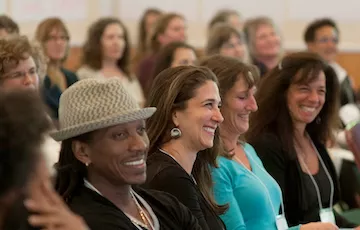 Many believe that the locally owned, independent, triple-bottom-line businesses found up and down the river will lead our economy — and our communities — to a place of vibrancy. One way to do this is to have more thoughtful, savvy and connected business owners.
Which is exactly what
Social Venture Institutes
(SVI) have been doing for almost 20 years. SVIs provide emerging values-driven entrepreneurs and innovative nonprofit leaders a forum to share challenges and get expert advice in a safe, trusting environment.
Founded by Gary Hirshberg of Stonyfield Farm in the mid-90s, the SVI model provides an interactive and practical way to connect with and learn from peers and experts alike. Think of it as an ad hoc advisory board, with depth. It's a program of Social Venture Network (SVN), a community of the world's leading social entrepreneurs working together to create transformational innovation, growth and impact.
We're getting our own independently organized version here: 
SVI Hudson Valley.
It's a weekend of profound problem solving, visioning and connecting, at one of the world's premier educational retreat centers. It's not just about learning a new tactic or discovering a new resource. It's about harnessing collective intelligence in an inspired setting to actually work through creative solutions to vexing challenges. It's about injecting new life into your business (or organization)… and yourself.
A signature SVI feature is True Confessions, whereby leading entrepreneurs share their trials, tribulations and triumphs in creating their socially responsible businesses. The Saturday night keynoter is Dal LaMagna, who started Tweezerman in 1980 and built it into a multinational personal-care-tool brand that practices responsible capitalism and corporate social responsibility. He's currently the CEO/CFO of the Brooklyn-based IceStone and an active investor in social impact businesses. Dal has recently taken root near Rhinebeck. 
SVI Hudson Valley is bringing world-class entrepreneurial talent to our backyard. The people and organizations behind it are some of the original thinkers and doers of the social enterprise movement.
SVI Hudson Valley
 will be held 
May 9-11 at Omega Institute
 near Rhinebeck. Details at 
www.svihudsonvalley.com
. A portion of the program fee supports 
Re>Think Local
 in its continuing work to "co-create a better Hudson Valley."