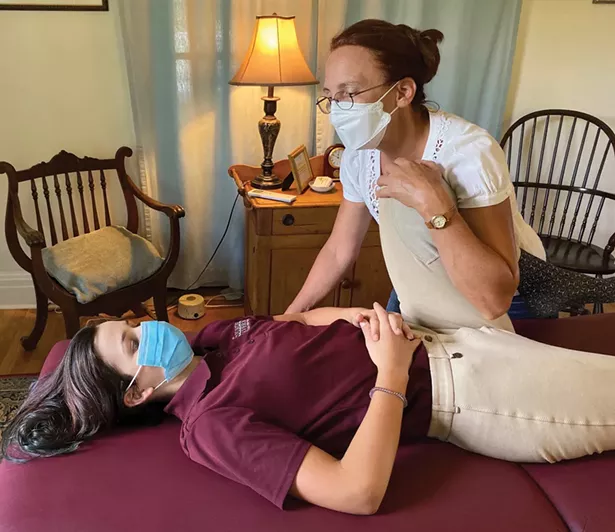 You can get 90 percent of a diagnosis by listening to someone's story," says Dr. Amy Davison, an osteopathic physician who practices out of her home in Germantown. For Davison, osteopathy's emphasis on truly understanding a person's individual journey to well being is part of what draws patients from all over the Hudson Valley to her.
Once a little-known segment of medicine, today, osteopathy is growing in popularity among those looking for something different from the status quo. In contrast to the symptoms and disease focus of allopathic medicine—the style most practiced in the US—osteopathic medicine focuses its treatment on the whole body through finely tuning the relationships of its diverse, but connected systems.
It was osteopathy's alternative style that made it a perfect fit for Davison. When she decided to go to medical school at 35, she was a mother of two who already had a career as an accomplished equestrian trainer, instructor, and competitor. She was led to osteopathy by a college counselor at SUNY Stony Brook, who told her she should explore it since osteopathy had a reputation for inclusivity, especially for nontraditional students.
"I started shadowing doctors and I liked the approach, how it took in all aspects of the patient's life, work, stressors, and family life," Davison says. "It looks at everything, not just the disease process."
Osteopathy is a hands-on style of medicine. In its emphasis on the musculoskeletal system, physicians rely on techniques for manipulating the spine, muscles, and bones in diagnosis and treatment. During her training, Davison found that this was a skill she had already honed over years of working with horses. "I had really developed a sixth sense for knowing how the body moves," she says.
In tandem with manual manipulation, thoroughly exploring and listening to every part of a patient's history helps Davison discover the unseen relationships at play. In traditional Western medicine, when symptoms manifest in one part of a patient's body, the temptation is to treat that symptom. That's where the storytelling comes in.
A patient may come to Davison with severe headaches or lower back pain. But it's only through listening to their symptoms alongside their complete history and habits that she may find the source of those symptoms hiding in a car accident from years before. "I have to take all the layers off," she says.
Davison's philosophy of total wellness carries over into every part of her life. When she moved to Germantown in the early 2000s, it was to start a small sustainable farm where horses could be a regular part of her life again. Today, she has a 33-acre farm where she grows vegetables that make appearances at the local farmers' market and keeps horses, chickens, and goats. She's also intimately involved with the town government in Germantown and is a member of several committees, including those for economic development, waterfront advisory, and parks, as well as the zoning board of appeals.
"So much of osteopathy is really being grounded in yourself and having a sense of peace," says Davison. "I get that same sense of peace when I ride my horses or when I look out from my office and see rolling hills and trees. It's part of feeding the whole mind, body, and spirit."