Being a writer known to play a bit of a music now and then, it's always cool to learn about another musician who's exercising his creativity in the realm of words. One of them is jazz player Scott Schachter, who this month in Tarrytown will read from
Outside In
, his recently published debut novel.
Schachter has played saxophone, flute, and clarinet with acts ranging from the American Symphony to the Manhattan Transfer. Since 1988 he's performed in stage productions on and off Broadway, such as "Pippin," "Kinky Boots," "Chicago," "Cinderella," "Newsies," "Porgy and Bess," "Billy Elliot," and others.
Here's a PR synopsis of Outside In, which was published via Schachter's Starbeat Press last year: "Shawn is a hard-luck saxophonist with an unearthly muse. His demented neighbors, a mob boss and a choir of interdimensional aliens with sharp teeth are not the only things that stand between Shawn and jazz stardom. A bigger problem is no one likes his crazy music. Worst of all, it scares off Carole, the woman he loves more than anyone. It even scares Shawn himself because he knows one day he'll follow his reckless muse until he goes insane, and Carole will stay away forever. When his soul collides with reality, Shawn must choose between his art and his love."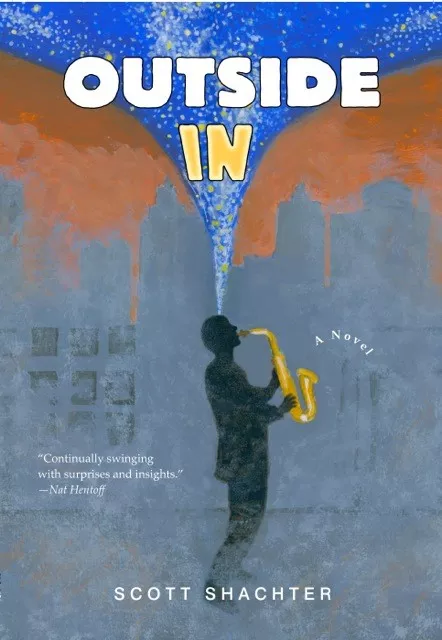 The book has drawn accolades from top jazz writers Nat Hentoff and Jazz Journalists Association President Howard Mandel, who called it "a funny and warm novel which joins an intriguing genre of 'jazz fantasies'…[taking] a music based on passion, skill, interaction, and abstraction as a fast-shifting lens through which to look at ineffable questions of identity, ambition, the wills of the heart, and maybe even the nature of reality itself."
Scott Schachter will read from and sign copies of Outside In at Warner Library in Tarrytown on December 15 at 7pm. For information, call (914) 631-7734 or visit www.warnerlibrary.org. The book is available at Amazon in paperback and Kindle editions.