Just an hour from Kingston is the eastern border of Delaware County—a wide-open door to the western Catskill Mountain region. Fall and winter are particularly wondrous seasons to pay those mountains a visit, as the foliage bursts into dazzling color then gives way to the stark beauty of the peaks and valleys covered in fresh snow.
And it's not just the scenery that's on offer—the area also boasts a rich farming legacy, excellent farm-to-table restaurants, a vibrant arts, culture, and shopping scene, and easy access to some of the region's best skiing and snowboarding.
One of the easiest ways to dip your toes into all the county has to offer is via Route 28, a scenic stretch of byway that passes through the heart of Catskill Park's highest peaks, as well as a host of charming towns and hamlets cozily tucked into the pristine forests and mountains that surround them. Whether you're out for just a day trip or headed upstate for a weekend escape, here are a few of Delaware County's hidden gems you'll find along the way.
Fleischmanns
Just after you cross into Delaware County from Ulster is the village of Fleischmanns, a quiet community dotted with stately Victorian homes. While you soak in the cute country vibes, fuel up for the trip ahead at Aegean Flavor, a new Greek spot on Main Street offering authentic dishes like lamb and beef gyro and galaktoboureko, a heavenly dessert of semolina custard baked in phyllo.
Arkville
Just 10 minutes down the road, you'll find the hamlet of Arkville, a historic vacation hub for visitors who were traveling on the majestic Delaware and Ulster Railroad. Looking to stay a while? Take in a tour or tasting at award-winning Union Grove Distillery, or pop across the street and get lost among the eclectic racks of discount darling Just Shop Boutique.
Margaretville
Margaretville is considered the area's commerce hub, with plenty of businesses, restaurants, and shops stacked along its inviting Main Street. Find plenty of treasures to take back home at curated shops featuring locally crafted jewelry, art, home goods, and more, like Kria, Barbara Alyn Artwear, and Home Goods of Margaretville. Swing into Binnekill Tavern on the way out of town for lunch or dinner, a storied mountain eatery reopened in 2018 by acclaimed chef Bryan Calvert.
Roxbury
Adventure-seekers in your crew? Take a detour north on Route 30 to Plattekill Mountain in Roxbury for a full day of winter sports fun. One of a shrinking number of independent ski centers, Plattekill is known for its easy going, laid back feel. With 38 trails—from gentle beginner runs to its double-black diamond "Blockbuster"—plus tubing for the kiddos (or the kids at heart), there's something on offer for everyone.
Andes
Heading west again on 28 from Margaretville, just before Andes, you'll see a sign for the Palmer Hill Trail—pull off into the parking lot for a jaw-dropping scenic overlook of the mountains to the east.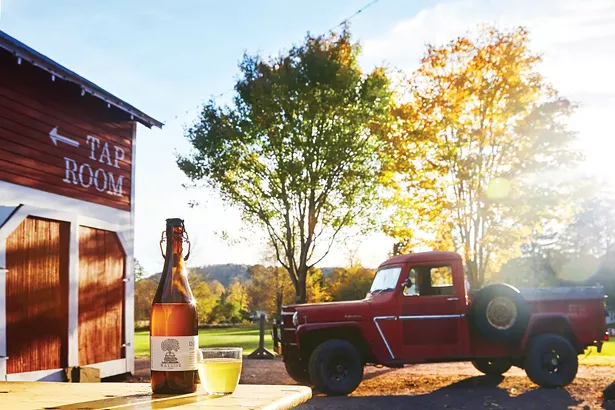 Swooping down into the valley below, you'll glide into Main Street Andes. Stop into Hawk & Hive to discover art from emerging and established local names, books a-plenty, and objects of practicality and delight. Soak in your surroundings on the Andes Rail Trail, a scenic 3.9-mile trail that loops through an array of Catskills scenery, from breezy meadow to soaring pine barren. After your jaunt, post up at Wayside Cider's picturesque restored barn-turned-taproom for a glass of crisp cider made from wild and abandoned homestead apples.
Delhi
The college town of Delhi is the last major stop on Route 28 in Delaware County. Celebrate in style with a reservation at the newly opened Eighty Main, a farm-to-table spot, whose menu highlights handmade pasta alongside other Italian and Argentinian influences. Seek out Half Hidden, a seasonal art gallery and reading room before you go, and pop into the Stonehouse, a collector's paradise of handcrafted wares housed in an old barber shop.
Not ready to bring your journey to an end? This is just a taste of the many sights, sounds, and flavors you'll find in Delaware County—time to keep on exploring for yourself and see. For more inspiration on where to go and what to do, visit Greatwesterncatskills.com.