Asking Crystal Williams to choose a favorite menu item at Norma's, the bakery-cafe-event space that she co-owns in Wappingers Falls, is like asking her to choose a favorite child––but she does have to mention the biscuits. They're made from scratch in-house, like all the other baked goods that Norma's offers, which range from bundt cakes topped with icing (available in raspberry, mocha, and double chocolate) to garden loafs (a fan favorite) and banana muffins.
Offered in seasonal rotations, the baked goods can be paired with oven-baked, grilled, or cold sandwiches that feature homemade spreads. For sandwiches, customers are encouraged to opt for biscuits instead of bread or bagels. Options include classics like the tuna melt, ham and swiss, and turkey, alongside geographic specialties like "The Southerner" (eggs, sausage gravy, and honey butter between biscuits,) and "The Californian" (a vegetable-laden meal with microgreens, avocado, and hummus.) An extensive drink menu features all of the usual espresso drink offerings as well as teas and tea lattes, hot chocolate, and freshly squeezed lemonade, with specials like Norma's Olé (a spicy mocha).
Williams co-owns Norma's with Denise Plowman, and both of their families have influenced the menu. Many of the pastries and savory items at Norma's are a nod to Plowman's Mexican heritage, like the jalapeño-and-cheddar biscuits and the ranchero and spicy bacon sandwiches. The "Banana Blast" muffins were a multigenerational team effort by Williams's family––she and her father workshopped the recipe as a vegan and gluten-free option for her younger son, then had her older son name it.
When sourcing ingredients, Williams and Plowman partner with regional small businesses when possible, getting their dairy from Hudson Valley Fresh and their Brazilian coffee beans roasted by Kitten Coffee. "There's something that draws us here [to the Hudson Valley]," says Williams. "If you're a chef or a baker, you know you have access to delicious products. It's inspirational."
The pair met when they were both working for Whole Foods in the bakery department. Williams had worked in the restaurant business, but lacked the coffee experience that Plowman, who had been a barista since her teenage years, brought to the table. Williams asked Plowman for coffee advice, and both of them left the conversation wishing to collaborate but nervous to jump the gun. "It was like that junior high school thing where you would pass someone in the hallway and ask, 'Will you be my girlfriend?,'" Williams laughs, "but for us, it was 'Will you be my business partner?"
United by their California roots, pastry arts degrees, and passion for local and natural food, Williams and Plowman first brought Norma's into existence in 2012 in the Ridgewood neighborhood of Queens. A decade later, they opened a second location in Wappingers Falls. Plowman, a former Marine, is practical, mechanical, and down to earth, while Williams self-describes as a "sometimes-bougie hippie kid. Together we make something that neither of us could make on our own," she explains.
They backed Norma's with Plowman's earnings from eight years in the Marines, Williams's commissions from selling her father's paintings, and their combines decades of experience. Plowman's coffee and baking background ranges from working small mom-and-pop shops to operating on the Google campus in California, while Williams brings over 20 years of food service and sales experience. "I always thought my dreams were other things," Williams recalls, "but I always kept coming back to food." When she was pregnant with her first son, she was baking so much that her family held an intervention. "We've all gained 10 pounds," they said. "You have to stop." But she didn't want to stop. "I wanted to bake, but nobody in my household wanted to eat."


Williams started selling cookies under the moniker Thumbelina's Pantry in 2005, and the shipment boxes began piling up to the ceiling in her house in Ridgewood. She fantasized about opening up a shop of her own, and would walk around the neighborhood scoping out storefronts. After meeting Plowman at Whole Foods in 2010, they teamed up to open Norma's one block away from where Williams lived. Two years later, the duo started another business, a brunch spot named Julia's.
To find better special education options for her son, in 2015 Williams moved her family to Wappingers Falls, with Plowman moving soon after to Newburgh. They ran the Queens location of Norma's from afar and talked of opening another location, but they were exhausted by the pandemic's effects on the restaurant industry. They asked themselves what they liked enough about being small business and café owners to do again. "The answer was community," says Williams. "When you actually know the people coming in your door, it feels really good."

In search of that feeling, they opened a second Norma's location in Wappingers Falls in May 2022. "Little old church lady to a young hipster kid to everything in between—everyone should feel comfortable," Williams says. "We want to make sure that we're representing the community that we live in, so when someone comes in looking for a job or sitting down at a table, there's no part of them that feels like an outsider."
Norma's has since hosted family cupcake making workshops, Girl Scout baking lessons, and open mic nights that are put on in tandem with The Artichoke Storytelling Series in Beacon. Musicians perform live on a small stage every Sunday amidst exposed brick walls and a large painting of a hummingbird, the same design that's on the storefront sign hanging above the entryway.
In an effort to be a family-friendly space, they have a kids corner, and starting April 7, there will be an "Kids Open Stage" on the first Friday of every month where children can sign up for three-minute open mic slots. They've also partnered with a local autism organization to host speakers who come and talk about available resources for families.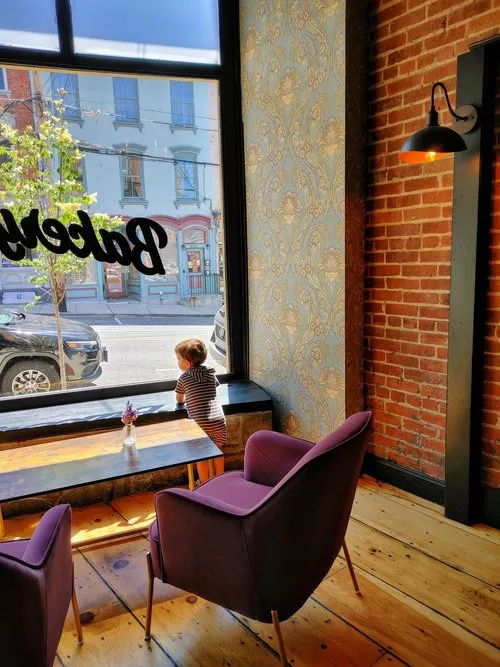 Williams's favorite thing about Norma's is when customers ask about the shop's namesake––Williams's grandmother, whose passion for cooking inspired her and other family members to pursue careers in the restaurant industry. "Almost daily, people ask me if I'm Norma or who Norma was, so I get to tell them about her every single day," Williams says. "She was Mormon, so I don't know how she would feel about the coffee part, but I can imagine her feeling tickled from above that she's loved and remembered."
Norma's in Wappingers Falls is at 2648 East Main Street and is open Mon-Wed 8am-4pm, Thurs-Sat 8-6pm, and Sunday 8-5pm.