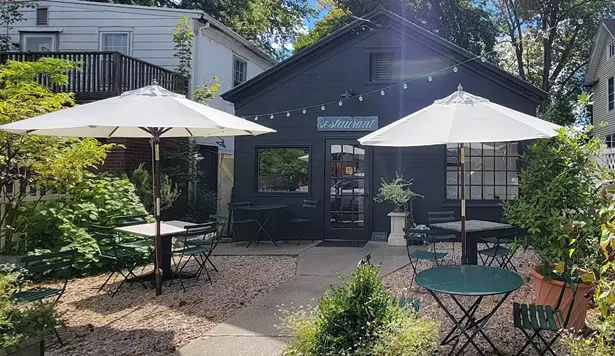 On Pine Plains's sleepy main drag in a shoebox building with no sign out front but an understated, cursive "Restaurant," chef Michel Jean is dishing out the rustic, time-honored French food to delight even the most refined palette at Champetre.
After running an acclaimed SoHo brasserie for 20 years that was the gathering place for New York's fashionable set, the switch to a 23-seat boite in rural Dutchess County is a considerable downshift for Michel and his wife Patricia Jean, who runs front-of-house. "This is our winding-down restaurant," she says. "It's really nice to be in a small space."
When the couple opened Provence on MacDougal Street in 1986, SoHo was a wildly different place than when they sold in the mid-aughts. That the restaurant, an homage to Jean's home region, survived Manhattan's fickle culinary whims that long is a testament to unboasting authenticity and expert execution. (The New Yorker once called the spot "a neighborhood institution that made its quiet corner of SoHo seem like a piece of French sovereign soil.")
The Jeans sold Provence and moved upstate in 2006 when they took over the historic Stissing House in Pine Plains. For 15 years, they served up a mix of authentic French cuisine plus wood-fired pizza and burgers. "We had a broader clientele that we had to please—a lot of families," Patricia explains. "This is too small for that, so Michel had to go back to his roots."
Jean was born in a small town above Nice where the Cote D'Azur hugs the Mediterranean. Influences from across the sea—Italy, Spain, Morocco—inform Provençal cuisine, which is Jean's speciality. After graduating from the culinary institute Ecole Hoteliere in 1968, Jean traveled around the world on cruise ships, cutting his teeth in galley kitchens alongside Michelin-starred chefs. He cooked for the king of Morocco and in ski resort towns before landing in New York to become the tuxedoed maitre d' at Regine's, where he met Patricia.
Champetre's building on West Church Street has at various turns been a newspaper office, blueberry pancake specialist and breakfast go-to spot Crumpets, Italian restaurant Agriturismo, and a camo-clad and taxidermied diner. The Jeans painted the inside white, the outside black, polished the concrete they found beneath the linoleum, and closed off the kitchen. They opened for dinner service in summer 2021. "A friend of ours gave us some beautiful chairs from the '30s, which sort of set the theme of black, white, and pale yellow," Patricia says. "Other than that, we just put tablecloths down on the tables that were already there."
While they were aiming for a smaller operation than their previous two restaurants, their current capacity of 23 was an unexpected blow—a cautious decision by the permitting department based on the building's long vacancy. "We're working on proving to them that we don't use that much water," Patricia says. "It's been a rude awakening, but it's worked out well. The kitchen is tiny, we can only take so many customers at once and keep them all happy. Unfortunately, they all want to come at 7 o'clock."
The menu at Champetre is restrained with four apps, four entrees, and five to six desserts, plus rotating fish, pasta, and risotto specials. Indulgent starters like classic garlic escargots ($19) and moules mariniere ($18) don't need to innovate to tick every deep and primal comfort food box you have and restore your faith in eating out. Two terrines will win your heart. The colorful leek terrine is served with a black truffle vinaigrette that adds tang and umami to this vegetarian dish ($18), while the terrine de maison is made with duck and game and served with prunes ($22).
Champetre is the place to be in fall (and we suspect winter too) with hearty entrees like Provençal mainstay bouillabaisse made with saffron rouille ($42). Leaves are turning? Cue the coq au vin ($38) with mushrooms, lardons, pinot noir, pearl onions, and…pasta? Have the duck your way—confit over lentils or magret with a seasonal, local fruit sauce (both $35). Your steak frites can come au poivre with a charcoal-grilled peppercorn and cognac sauce or au bearnaise ($42). The pan-seared, lemon garlic baby chicken ($38) rounds out the entrees.
With the exception of seafood and other specialty items, the Jeans are taking advantage of the small family-run farms in the area to source much of their produce and meat, including from Full Circus right in Pine Plains and their landlord's pork and lamb farm Black Sheep Hill.
Just a look at the names is enough to confirm Patricia's claim that the desserts at Champetre are "very French"—tarte au citron (lemon custard in a flaky pie crust, $10), ile flotante (a meringue masterpiece afloat in a bain marie, $10), creme brulee (because you can't not, $10), the royally indulgent marquise au chocolat ($12), and border-hopping, crowd-pleasing tiramisu ($10).
While Michel started in the kitchen at Provence in SoHo, he quickly needed to transition to a more executive role. "It was too hard to run it and be in the kitchen," Patricia. "He hadn't been in the kitchen for a long while even though he always planned the menus. Now he's hands on." The sous chef, pastry chef, hostess, and bartender from Stissing House all rejoined their previous Stissing House bosses in their new endeavor, so the small restaurant hums along like a finely oiled machine.
As you can imagine, the wine list is primarily French. There is no cocktail list per se, but the seasoned bartender Tracy can whip up all the classics or poll you briefly to create a custom drink. "She interviews people a bit about their favorite flavor profiles and spirits," Patricia says. "It works out best for us that way. Everybody raves about her cocktails and she likes to talk to people."
In Champetre's first year, business has been a constant stream, with the restaurant open for dinner service Wednesday though Sunday. Whether you live up the road, cross county lines to dine here, or stumble in by accident, Michel Jean's food is sure to woo with its robust, no-frills celebration of rural tradition.
Champetre
2938 Church Street, Pine Plains, NY 12567

(518) 771-3350
Wednesday-Sunday, 5-9pm