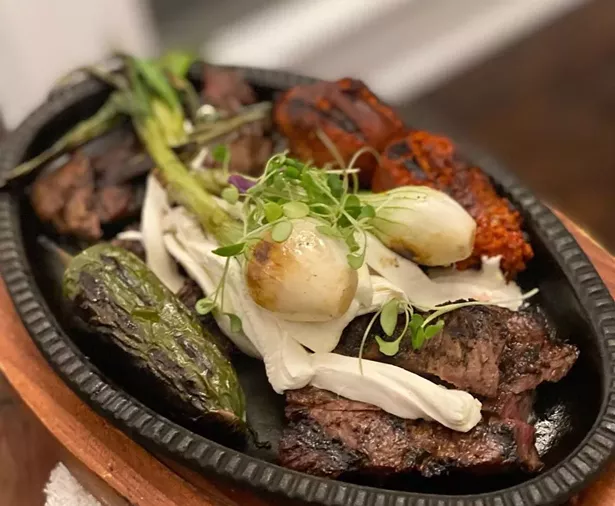 In June 2020, mid-pandemic, Oaxacan-born and Rhinebeck-raised chef Ruben Lopez finally fulfilled his dream of owning a restaurant, his dream restaurant in Kingston's Rondout district: Tortilla Taco Bar. As the name suggests, the menu at the new spot was built around the tortillas, which are made in house twice a week, from the tacos to the vampiros and the tostadas.

In a neighborhood with more than a few Mexican food options, Lopez's fish tacos, carne asada, and deliciously indulgent birria quesatacos quickly stood out. Oh, and the margaritas squarely put the bar in Tortilla Taco Bar.
Around the same time Lopez was opening in the Rondout, across town, the owners of Duo Bistro were getting ready to close the doors on their beloved establishment at the corner of Wall and John streets. The prime Stockade District location then had a yearlong stint as brunch haven Grainne before closing again amid ongoing pandemic hardship.
Earlier this year, Lopez and crew scooped up the corner spot to serve as an uptown outpost for Tortilla Taco Bar, with plans to offer a higher-end take on their Rondout concept. Tortilla Uptown opened quietly in mid-November, and now has regular hours open daily except Wednesdays.
The dinner menu offers a handful of apps including tostadas de jaiba—crabmeat piled high upon a crispy tortilla with chipotle crema ($12.95); crispy cheese-filled rice balls ($9.95); and esquites (think disassembled elote, $7.95).
But this is not your abuela's taqueria. For the premium corner spot, you pay a premium price tag. For mains, the meat options are the standouts with a lamb shank braised in a garlic adobo sauce ($37.95) and Angus short ribs braised in a barbacoa broth ($33.95). There's also a vegan option for the meat-abstainers out there, with grilled nopales topped with chayote, red onion, grilled zuchs, and sauteed spinach and sitting in a tomato-epazote bath ($25.95). All the mains are served with your choice of corn or flour tortilla and a side of rice and beans.
Of course, tacos have to be on the menu, right? Rather than a-la-carte-style, Uptown tacos are served as dinner platters, with two per order plus a side of rice and beans, a la neighboring Santa Fe. The options are chorizo, short rib, shrimp, and fried avocado ($25-$27). The soup and other specials rotate weekly.
To wash it all down, order from the list of six cuisine-complementing cocktails: margarita, paloma, mezcal mule, rum and coke, G&T, and mojito ($12-$14). There are also a slew of Mexican beers available by the bottle and can as well as half a dozen wines by the glass or bottle. As to be expected, you can also find Mexican Coke, Sprite, and the sugar-packed, colorful classic Jarritos here.
As is historically fitting for the location, on Saturdays and Sundays, Tortilla Uptown opens at 9am to serve a brunch crowd hungry for breakfast burritos and huevos rancheros. At 2pm, the menu switches over to dinner offerings.
Tortilla Uptown is open Monday, Tuesday, and Thursday: 4-9pm; Friday 4-10pm; Saturday 9am-10pm, and Sunday 9am-2pm. Closed Wednesdays.