Gianni Scappin learned the basics of Northern Italian food at his father's side as a teen. He flirted with the idea of medicine, but cooking was a more accessible career, and the young man found himself at Recoaro Terme Culinary Institute, studying with masters on internships all over the nation that famously lives to eat.
After graduation, Scappin wandered for a while: a fine hotel in England; a stint in a cruise ship galley, the Excelsior in Venice. As he roamed, he made connections; when Castellano in Manhattan needed an executive chef, he was recruited from Europe. In Scappin's deft hands, Italian food soared past the city's expectations. It turned out that New Yorkers had been starving for risotto and tiramisu made with traditional ingredients.
His next adventure involved developing several restaurants around the globe. Lured back to Manhattan to lead the kitchen team at Pino Luongo's Le Madri, he let a guy named Stanley Tucci come help out, a course of events that led to the making of Tucci and Campbell Scott's cinematic love letter to Italian food, Big Night.
Having conquered New York, Scappin headed back to Italy and reopened the family trattoria for a time. His then-wife Laura Pensiero missed the US, though, and the talented pair landed in Rhinebeck where they opened the still-thriving Gigi Trattoria in 2001.
That partnership didn't last, but Scappin's found his home here: teaching at the Culinary Institute of America, running Woodstock's Cucina and the Market Street Restaurant in Rhinebeck, and penning definitive cookbooks. This spring, he's bringing his signature approach to a third Hudson Valley location, across from Vassar College in Poughkeepsie.
click to enlarge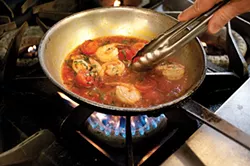 Why a third restaurant, and why Poughkeepsie?
Because we thought this particular place was a very good opportunity. Poughkeepsie has the colleges and offices, the hospitals—just the overall density that you need to support a restaurant year-round. Wintertime for both the other restaurants has been quite rough. I love Rhinebeck and Woodstock both, but things there are a little more seasonal. I don't like to lay off my good people for the winter. Their bills don't stop, I want to keep them working and keep them all year long. It's the right thing, and I want them faithful when spring and summer comes. So yeah, population—students, infrastructure, the attractions, the train station—I think we will be able to move people there over the winter and they'll still have a job.
Also, we have people—dearly beloved customers, friends—who come from Millbrook and Cold Spring to eat with us. It's a long drive and some don't come as often as they would like or we would like. Hopefully some of those people will come more often. And the new place has 70-to-80-seat-capacity party rooms where people can have events. That changes the level of catering we can offer, and it should be pretty good for us. At Cucina, we have a gorgeous barn, now we'll have a private space right in Poughkeepsie.
Aren't you busy enough, between running the other two restaurants and teaching at the CIA? Do you worry about getting stretched too thin? Do you just not sleep?
I have a way with choosing people. I get the right team together—a very good chef, a very good manager. I'm 54 years old and I have the experience, I know how to do this. They're young and building their careers with a lot of passion, a lot of energy. And they get treated well, get good bonuses, get a lot of room to be creative, to feel as if it's almost their own restaurant. I have a good partner and a good team, why not expand and grow?
So each restaurant has its own chef, but we talk every day, we sit down together and plan the menus, we have some kind of a style, a line we follow as a team. I'm one of them, and they know if they have a problem I'm the first one to say leave, go home, fix the problem with your family, because that's your foundation—without that you'll collapse. And if your manager or your server is not happy, it spills over on the customer.
We have people that have been with us ever since Gigi opened, and I think this attitude is why. I come from Europe, I've been in this business back there, and when you give loyalty there, it is still the thing that from when you're born to when you die they take care of you. I'd rather pay more taxes and have that kind of a world, where you're set.
So we'll see how it goes. My next thing is, I want to be able to come to my restaurant and eat, have a good visit, get a little money and say, "Okay, I'm going to the beach now." I've been working since I was 14 and someday I'd like to be able to stop.