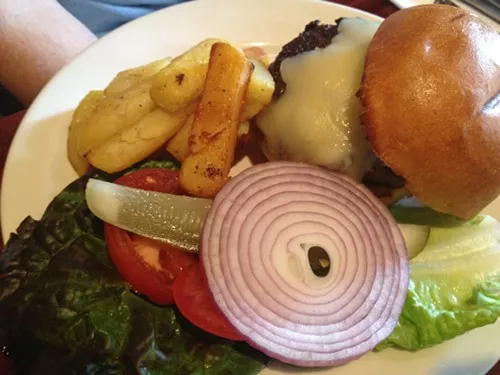 The Tappen Burger with Jack Cheese
I am excited to review The Tappen Restaurant, which opened in Kingston a few weeks ago. My husband and I went there for lunch last Wednesday not knowing what to expect. It's in the Tappen House, which dates back to the 1600s. There is an elegant bar, and a few tables in the front room. The server told us we could dine upstairs if we wanted. We both chimed, "Upstairs sounds great!" (A tip if you do go upstairs: watch your head if you are tall! )
I started with a cup of the Dashi Miso soup, and Tom had the creme of crimini soup. I liked the Dashi Miso soup. It tasted stronger than other miso soups I've had, which I liked. I wish I had the recipe for the crimini soup! It was so good. I bet the chef adds a bit of wine to it. I had the Marlins Salad for my entree. It comes as a sandwich with fries, but I requested it on greens so it came on a bed of raw spinach. The server described it as a jacked up tuna salad. It was very fresh, and reminded me a bit of the gourmet tuna salad I've had at a fish place in Montauk.
The fries are hard to describe. They are not your normal fries. They are sort of like Belgian fries. Tom ordered the Tappen Burger with Jack Cheese. He said it was one of the best burgers he's had in the Hudson Valley. I'm excited for The Tappen Restaurant, and I think they will definitely cut the mustard in what is becoming a competitive-in-a-good-way restaurant scene in uptown Kingston. By competitive I mean that there are many high quality restaurants in the Kingston area now so you really have to have good stuff to open up a business and sustain it.
Visit Vanessa Ahern's blog Hudson Valley Good Stuff for the scoop on where to eat, play, and recharge your spirit in the Hudson Valley.