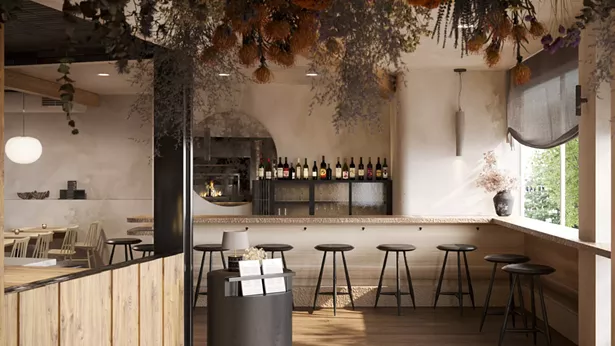 While Uptown Kingston does not lack establishments where wine is served—Stockade Tavern, the bar at the Kinsley, and Le Canard Enchaine are personal faves—since Elephant's closing in 2018, the neighborhood has lacked a self-styled wine bar. But that's about to change—say hello to Chleo, a project of the husband-and-wife team Hope Troup Mathews and Charles Mathews.
These culinary nomads have worked at restaurants across the country—Charleston, Austin, New York City, Denver, San Francisco—and most notably, the acclaimed Blue Hill at Stone Barns in Westchester. Charles has spent his entire career in the kitchen, while Hope has always worked front-of-house.
When the pandemic hit in 2020, the couple were living in Denver. Like so many others, they decided it was time for a change. A visit to friends who live in the Sullivan County hamlet of Parksville proved revelatory. "It was an exploratory mission at first," Hope says. "The Catskills have everything we love about Colorado. But the Hudson Valley was also such a draw for the agriculture. It's a community that cares about food and where food comes from."
In February of 2021, the couple bought the building on the corner of Fair and John Streets, which had most recently been the home of Ecce Terra, a Mediterranean restaurant. Working with Brooklyn-based design firm Islyn Studio, the Mathews are renovating from top to bottom, opening up what was once a cramped space into an open-plan kitchen and bar/dining area. A number of walls have been removed and the bar has been extended along the window looking out on Fair Street.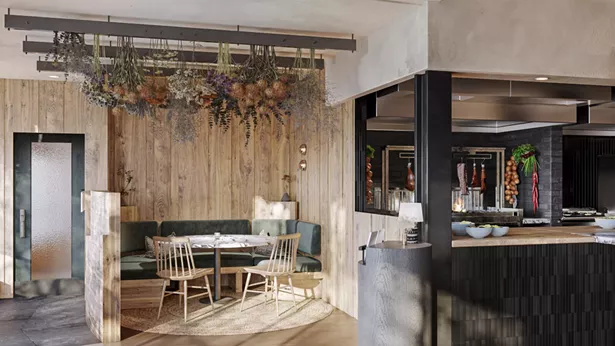 The food and wine are works in progress, but a centerpiece of the menu at Chleo will be the grill. "Charles has a passion for live fire," Hope says, "as well as for using the bounty of this area." The small menu will showcase grilled vegetables (as well as preserved and fermented ones), a pasta dish, a protein (meat or fish), as well as tapas-style small plates to share. There'll be many wines by the glass, with a mix of classic Old World selections along with New World natural ones as well. Chleo will also feature a full bar.
The Mathews hope to be open by the end of May, early June at the latest. Follow along on Instagram for the latest news.