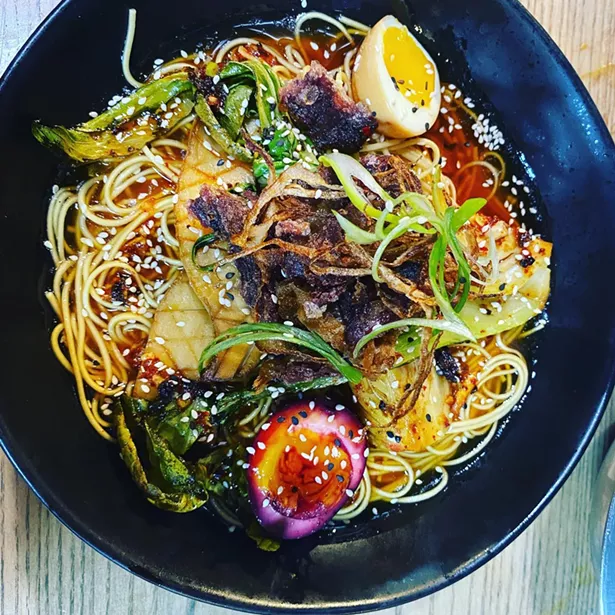 On Christmas Eve 2020, Damien Georges took a leap of faith, despite the COVID pandemic, and opened the Fourteen Railroad restaurant in downtown Warwick. After a year and a half serving up dishes ranging from tapas to pizza to tomahawk steaks and rabbit, Georges has made a name for himself and is getting ready to open his next place next door.
Progress was slow, given the state of supply chains nowadays but Georges finally opened the doors to the Asian-inspired restaurant, simply named Next to 14, mid-July. The Asian menu isn't a blind dart thrown at the culinary map of the world for the Aussie-born owner Georges, but rather a reflection of his life and travels with his wife. "The main influence for Next to 14 is our life in Japan and our passion for great Asian food," says Georges.
Raised Down Under, Georges' voice retains a faint Australian accent. He learned the food biz from his father, who owned the French restaurant La Chaumiere in Melbourne for 30 years. Georges broke away from restaurant industry to move into the corporate work. And alongside owning the two restaurants, he is also currently senior vice president for Real Page, a Texas-based software company.
But before all that, Georges spent a stint in Japan teaching English at a school in Sakai, not far from Osaka. There, he met his future wife, Lisa, who was also teaching. "We were there about two years," he says. "We both fell in love with Japan. Since then, I have traveled a lot for work and have spent time in Shanghai, Hong Kong, and Singapore. They have become my favorite places to experience food." Georges' appreciation has come to life in full color at the restaurant: One wall is covered in a mural of "The Anime Last Supper," painted by local artist Jordan Chisholm.
The menu for Next to 14 reflects Georges's love for a wide spectrum of Asian cuisine. "We include dishes from Korea, China, and Vietnam," Georges says. The "Snacks" list includes spicy cucumber ($6), Japanese fried chicken, and Korean mac 'n cheese (each $10). You can order a variety of bao (each $8) that riff on current hip tastes: confit duck, pork belly, and oyster mushroom. Of course, there is also miso ramen and chicken pho (each $10) and pork ramen ($14). If all that isn't mouthwatering enough, there are 22 extras available to add to either the broths or sandwiches. So you can top your order with something as simple as scallion or daikon kimchi (each $2), a quail egg ($3), some duck ($6), or even a beef filet (also $6).
Yes, the menu definitely appeals to higher tastes, but the bill won't be sky-high. "It's definitely reasonable," Georges says. "You could get a plain bowl of ramen noodles for $10. You could also add a ton of stuff and spend $30. I am trying to keep this restaurant as casual as possible but still provide amazing flavor and quality." Next to 14 doesn't accept reservations, so the 25-seat capacity fills up regularly. But, in good news, they recently started offering take-out, so even if there's no stool for you, you can bring the goodness home.
Those luscious food creations are whipped up under the careful eye of Dericka McFarlane, a Middletown High School grad whose chef chops include Nyam Patois (contracted by New York Fashion Week), Goldman Sachs, and James Beard House.
Next to 14 has its a liquor license, too, so you can enjoy sips like a Toki Monster (Toki whiskey, sherry, lemon) or a Hemingway (dark rum, Luxardo, grapefruit, lime) with your ramen. For a refreshing drink with or without alcohol, sip the specialty iced tea (add Haku vodka for an extra $4, or CBD for $2) or the Laura Palmer (Ten Ren jasmine green tea, lemon, yuzu, honey, hibiscus). For a tropical splash, the Osaka Dreams comes with jasmine, mango, pineapple, and coconut cream. Peyton Bacha runs the bar end of the biz, after stints at places like the Haven Spa in Rhinebeck and Manhattan gin bar The Winslow.
The staff is under the direction of General Manager Dana Green. With the local Pennings name in her family tree, Georges is confident in Green's ability to skillfully manage the day-to-day. That leaves just one question. Besides the obvious, why did Georges name the restaurant as he did? Look to the Asian scripted name (ネクスト トゥー 14) for the true reason, he says. "The name is 'next to 14' written in Katakana—the alphabet the Japanese use to describe anything that isn't Japanese," Georges explains. "So 'next to 14' is Japanese, and it's not."
Next to 14
ネクスト トゥー 14
12 Railroad Avenue, Warwick