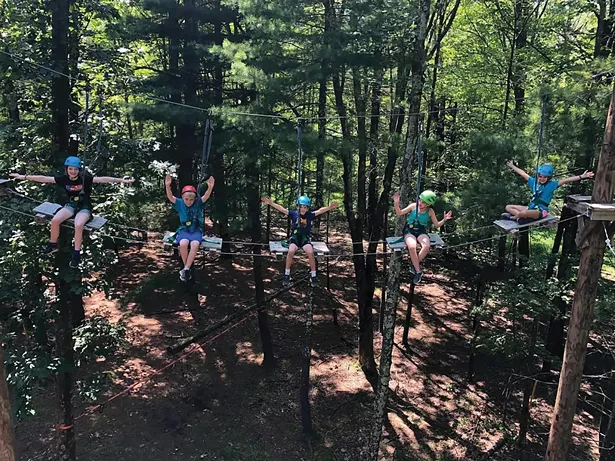 The YMCA of Kingston and Ulster County's Camp Seewackamano is a summertime favorite among families in the Hudson Valley, earning the organization a Chronogrammie for best camp. At the campus in Ashokan, campers enjoy time on the lake for swimming, boating, and fishing; fields for sports; two ropes courses; and access to 37 miles of hiking trails in the Catskill Forest Preserve. Kids come from all over to spend the day catching newts, observing tadpoles, and playing outside with their peers.
To foster a connection with other kids and with nature, Camp Seewackamano is completely technology-free. "It allows for pure play," says Caitlin Roone, youth development staffer at the YMCA Kingston & Ulster County. "Kids are running around all day, getting tired, getting a little dirty, it's just pure outdoor play—something that is sometimes lost these days."
Camp Seewackamano attracts families and campers from a range of backgrounds, making it a diverse place to meet people. The YMCA also offers a financial aid program to help cover the cost of attendance, making the camp more accessible to everyone. "We're not turning away anyone based on financial ability to pay," Roone says.
This summer, the camp is fully moving away from the COVID precautions of the last two summers, returning to unmasked normalcy. Moving forward, their goal is to open up the location to more family and community events. This year, the YMCA hosted its first Easter egg hunt at the Ashokan location. Currently, they have plans to winterize one building on their campus and train more staff, giving them the ability to open up for more events year round.