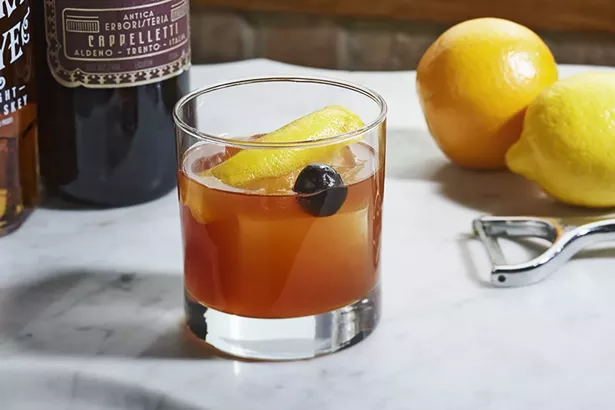 After cutting their teeth on the New York City bar and restaurant scene, childhood friends Josiah Early and Ezekiel Miller relocated to the western Catskills to strike out on their own. Together they formed The Horse's Mouth, an events and consulting company specializing in craft cocktails. And in summer 2018, the pair opened the doors to their latest undertaking: The Cochecton Fire Station.
"For over a decade, we discussed opening a place of our own, and when the fire house came up for sale, we knew it would be perfect," Early says. Miller adds, "When it was still functioning as an actual fire station, it was the town's gathering place for birthday parties and other celebrations. It seemed clear the community missed those traditions and needed them back."
The once-operational fire station has been into a cozy gastropub, which serves artisanal cocktails and delectable flame-cooked fare that had food writer David Wondrich taking to Twitter to cry "Brigadoon!"
Named for iconic local farmer John Gorzynski, a stickler for traditional methods of organic agriculture, the Ornery Old Fashioned is a throwback to the pre-Prohibition glory days of bartending. Made using traditional methods and ingredients, the drink has a mix of rye and Prohibition bourbon, which is distilled in Roscoe from corn milled right next door to the Fire Station. "This Old Fashioned is about as close to the original cocktail America ever made," Miller says. "This drink would have made our forefathers proud."
—Julia Joern
Ornery Old Fashioned Cocktail Recipe

1 1/2 ounces Rittenhouse 100 proof Bonded Rye
1/2 ounces Prohibition Bootlegger Bourbon
1 Barspoon of Oleo Saccharum
1 Barspoon of Amaro Sfumato
1 Dash Angostura Bitters
1 Dash Regans' Orange Bitters
Directions:

Add all the ingredients to a mixing glass with ice
Stir with a spoon
Express the oils from an orange peel over the drink and wipe around the rim of the glass
Garnish with a lemon or orange peel
Cochecton Fire Station is located at 1 Depot Road in Cochecton. Cochectonfirestation.com