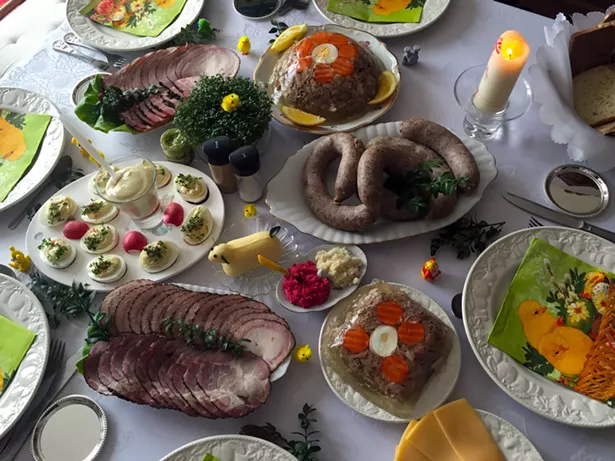 Ah, the loveliness of Easter. Renewal. Rebirth. Lamb, glazed ham, and fresh-made pastry. If you don't feel up for cooking a big feast but you'd still like to partake, head to any of these fine Hudson Valley establishments for an extra-special Sunday brunch.
Choices range from the traditional to the wildly original, sometimes in the same place. Skip breakfast, pack up the kids, and get ready for a warm welcome and a memorable feast in a splendid setting. Reservations are strongly recommended.

Easter Brunch Spots in the Hudson Valley
The Beekman Arms in Rhinebeck will be serving an Easter brunch menu fit for a Colonial-era patent holder from 10am to 3:30pm in its glorious historic rooms. You'll enjoy a buffet laden with around a dozen exotic appetizers, a carving station with both ham and lamb, not to mention quiche, herbed chicken, and salmon, and 10 mouthwatering dessert options. Call 845-876-1766.
At Villa Borghese in Wappingers Falls, you can Brunch with the Bunny, who will be making special appearances throughout the day. Along with the breakfast station (strawberry cheesecake French toast, anyone?), herb roasted lamb, honey ham with apricot brandy sauce, three different seafood entrees, and an array of other gourmet goodies, there's a planned-to-please kids' menu. Brunch will be served from 11am till 3pm. Cal .845-297-8207.
Bear Mountain Inn will be serving Easter brunch in its Restaurant 1915 with its gorgeous lake and mountain views. There are seatings at 11 am, 11:30 am, 1 pm and 2 pm. They'll have custom omelettes, lamb and ham for the carving, seafood bar, lobster mac and cheese, short ribs and just piles of everything wonderful. Kids under 5 eat free. Call 845-786-2731.
Mohonk Mountain House is offering two delicious options this Easter Sunday between 11:30am and 2pm: a Champagne Brunch. Complimentary Taittinger Champagne will accompany the delicious four-course formal service brunch, with mouthwatering a la carte menu options. There will also be an Easter brunch buffet in the Main Dining Room—a lavish spread with four kinds of tea sandwiches, a ceviche bar, and a toast station with exotic spreadables. Oh, and Lobster Newburg. Call (855) 883-3798.
Diamond Mills in Saugerties will be breaking out the home-baked goodies, cheeses, and smoked fish to get you started on their gourmet buffet, being held 10am to 4pm in the Grand Ballroom. Save room for a bespoke omelet or a stack of pancakes—and don't miss the leg of lamb and prime rib too. There will be plenty of tasty chicken and mac-n-cheese for the little hoppers. Call (845) 247.0700.
Aroma Thyme Bistro in Ellenville will be serving an Easter brunch menu from 10am to 2 pm featuring classics from their farm-to-table, veggie-friendly repertoire. Start with a mimosa or a Bloody Mary and then segue into some Crab Benedict with local Radicle Farms spinach, or a breakfast pizza with maple hot sauce. Call (845) 647-3000.
The Amsterdam in Rhinebeck will be serving up Easter Weekend from 11am to 4pm, featuring the elevated farm-to-table creativity of Executive Chef Alex Burger along with The A's exceptional Prohibition-style gin and whiskey cocktails. The backyard patio will be open. Call (845) 516-5033.