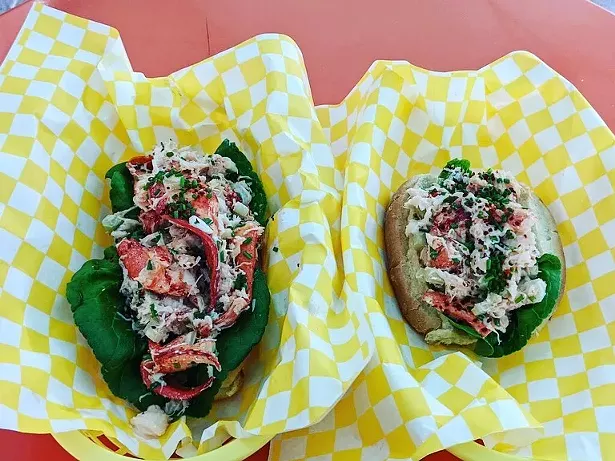 While the Hudson Valley isn't exactly coastal, in the past few years lobster rolls have popped up more and more on local menus in the summer months, particularly at breweries. This year, when we checked in with our local go-to spots, we found that lobster rolls had dropped off a handful of menus.
According to a
recent article in the New York Post
, lobster prices are dropping as we approach summer, after price peaks due to "a limited supply, high demand and the reopening of the economy as the nation moves past the coronavirus pandemic." Still, prices are UP there, so don't be surprised if your favorite summer snack is harder to find (or a few bucks more expensive). To avoid heartbreak, we've rounded up 5 surefire spots to get your lobster roll fix this year. If you know of others, drop a line in the comments.
Aside from the places listed below, pay close attention to the specials menu at
Bowery Dugout
in Kingston for lobster roll guest appearances. And if you're down in Westchester, check out
The Boathouse
in Ossining for a kick-ass lobster roll and
Morgan's Fish House
in Rye.
This nano brewery in Midtown Kingston serves up seaside specialties like oysters and lobster rolls that pair perfectly with their lighter German-leaning small-batch beers for a peak summer experience. Their Maine Style Lobster Roll comes on a New England split-top roll finished with lemon, butter, and paprika for $28 with chips on the side. Simple, classic. Order takeout or dine outside in their walled (bier)garten.
Located on the water in Catskill, Port of Call has a seafood centric menu so the lobster roll is no surprise here. A little pricier at $29.95, the roll offers chilled fresh lobster tossed with mayo and spices and served on a New England butter roll. Looking for a gluten-free option? For just two bucks more you can get the lobster bake or the lobster salad, which includes a whole fresh lobster, steamed and chilled over a bed of baby lettuce, cucumbers, tomatoes, red onion, mango salsa, and cocktail sauce.
This waterfront restaurant in Newburgh dishes up a full seafood menu. Look for the New England-style twin lobster rolls (market price), which come on grilled split-top rolls.
The Off the Hook food truck serves the greater Kingston area and is beloved for its lobster and shrimp rolls, crab cakes, chowder, and other New England specialties. Their lobster roll comes with a quarter pound of steamed and chilled lobster served on a toasted roll with melted butter for $25 (as of May).
In 2020, the lobster rolls, Coney Island hot dogs, soft-serve ice cream, and cocktails at Buttercup were a silver lining in a pretty bleak year. This past May, the pop-up returned to Hudson's Prison Alley for its third season with a menu of cocktails, appetizers, and wine, plus all the old favorites. Here the lobster roll style is classic New England, served on a split top bun for $29.95. If you just want a taste, choose the smaller slider size for a more affordable $19.95.