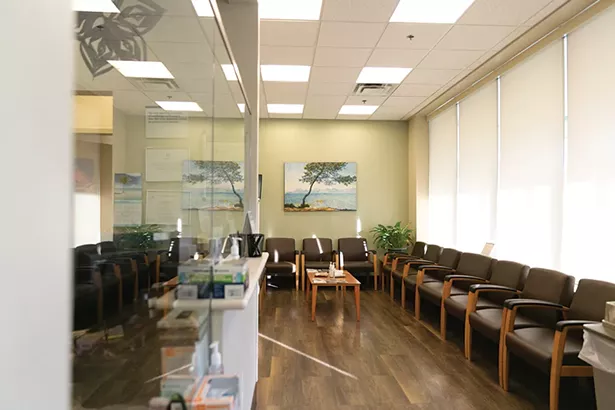 According to the CDC, emergency room visits in the US increased by 22 percent between 2006 and 2016. ERs are open when primary care offices are closed or booked up for days, which means that many people default to an ER visit out of necessity or, increasingly, habit. This results in overcrowding and increased wait times at the ER as well as costly, unexpected bills for patients who just needed treatment for a high fever or a sprained ankle.
"When patients have options, it benefits everybody," says Dr. Michael Weisberg, Chief of Emergency Medicine at Columbia Memorial Health in Hudson. "If you have a scrape or a bad cold and you go to an urgent care center instead of an ER, you'll not only see someone sooner, but you'll free up our resources so we can give people with life-threatening injuries and illnesses the care they need, too."
Dr. Weisberg has played a key role in expanding Columbia Memorial Health's emergency resources over the past 10 years. That includes the opening of two urgent care facilities, the CMH Rapid Care centers in Copake and Valatie, to increase access to medical care for patients in Columbia, Greene, and Dutchess counties.
The Rapid Care centers are designed to alleviate the demand on ERs for treating minor issues, including seasonal ailments and cuts, sprains, or fractures. The Valatie location is open for walk-in patients every day 9am-9pm, while the Copake location is open 9am-7pm every day except Thanksgiving and Christmas. "Before, people had to drive nearly 25 minutes to the closest ER," Dr. Weisberg explains. "The first year we opened our Rapid Care, we treated more than 12,000 patients. That's huge."
To ensure that patients receive the highest quality of care possible, every healthcare provider on Columbia Memorial Health's Rapid Care team—including physicians, physician's assistants, and nurse practitioners—has extensive training and experience in the ER.
"When you see a healthcare provider in an urgent care setting, you might only see them for a few minutes," Dr. Weisberg says. "But you're really benefiting from their years of experience and training. It's so important that the healthcare providers in those units have the experience and knowledge they need to diagnose each patient accurately and quickly."
Healthcare providers at the Rapid Care centers also have the benefit of tapping into Columbia Memorial Health's wider system of records and resources, which enables them to deliver greater continuity of care. "That's the thing about our Rapid Care centers—they're connected to the entire Columbia Memorial Health system," Dr. Weisberg says. "So from the moment you come in, we'll be able to see your medical record, family history, medication, everything. We can also contact specialists within the hospital system if we need to."
The Rapid Care centers are just one part of Columbia Memorial Health's expansion of services between home first aid and a hospital stay. Columbia Memorial Health also has an observation unit that serves patients whose conditions indicate they might need further treatment but don't necessarily require hospital admittance.
"We're the only hospital in the region with a specialized observation unit," Dr. Weisberg explains. "It allows us to give an even greater level of care for patients, because we can keep an eye on them. And if their condition changes, we're able to act quickly. It's details like this that help the medical team at Columbia Memorial deliver the best patient care possible, every day."