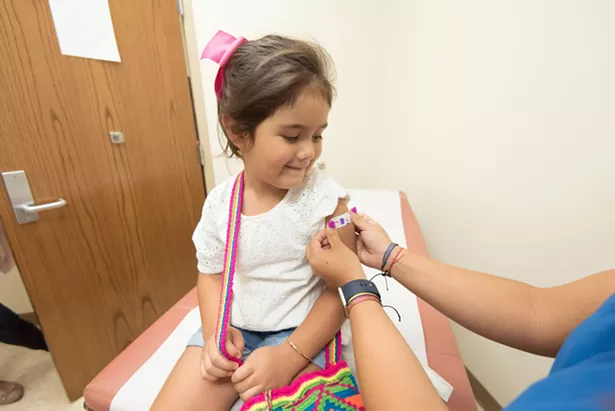 With the kids out of school, the summer months have a way of flying by in a flurry of playdates, sleepaway camps, and sunny days by the beach or pool. And as any parent knows, the start of summer also means it's high time to schedule those wellness visits and vaccinations at the pediatrician. By setting your little ones up for the year ahead, you can sit back, relax, and enjoy summer with that all-important task checked off the list.
"Wellness visits are designed as a well-rounded approach to preventative medicine," says Dr. Manan Pandya, a pediatrician at Columbia Memorial Health, which has three pediatric care centers in Hudson, Catskill, and Valatie, as well as 12 primary care offices across Columbia, Greene, and northern Dutchess counties. "They're also a great opportunity for parents to check in with their children's pediatrician and bring along that list of questions they've been wanting to ask," he says.
Though you might think of these appointments as just a quick check-up, they're actually a vital part of tracking your child's physical and emotional development. During the visit, your pediatrician will ensure your child is on-track for physical milestones like height, weight, and BMI, and the visit provides an important opportunity to identify any underlying health issues. "We're focused on early intervention," says Dr. Pandya. "It's important to first identify an issue in its earliest stages with your pediatrician, then address anything further with a specialist."
CMH's pediatricians look for a wide range of issues, including abnormal heartbeats or heart murmurs, scoliosis, hearing or speech-related conditions, and mental health issues, and can talk through any concerns about learning disabilities or behavioral issues at home or school.
They'll also check to see if your kids have had recent visits with their specialists (or make referrals if an issue requiring a specialist is identified), make sure medications like inhalers are refilled, and perform any necessary routine blood work.
The pediatrician will also ensure your kids are up-to-date on FDA-approved immunizations recommended by both CDC and the American Academy of Pediatrics. "Vaccines are an important part of the prevention of diseases that used to be prevalent in children 50 or so years ago, but that today are quite rare," says Dr. Pandya.
To make things even easier, New York State has a central database of immunization records, so your CMH office can easily see if your kids have received any vaccinations required for the school year ahead.
To learn more about Primary and Pediatric Care at Columbia Memorial Health or to schedule an appointment for your child's wellness visit or immunization, visit
Columbiamemorialhealth.org
.